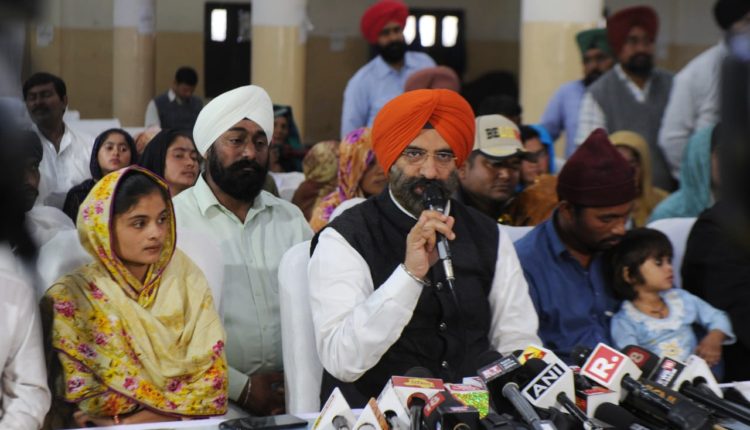 Delhi Sikh Gurdwara Management Committee demands Citizenship for Hindu/Sikh Pakistani Migrants
Vishal Malhotra/Lokesh Goswami Tennews New Delhi :
New Delhi (17/02/2020): Manjinder Singh Sirsa, President DSGMC today demanded grant of citizenship to Pakistani Migrants – Hindu Sikh refugees families living in jhuggis and semi-permanent structures in unhygienic conditions on the Yamuna floodplains, south of Gurudwara Majnu Ka Tila.
While addressing press conference at historic Gurdwara Majnu Ka Tilla along with Pakistani Hindu refugee families today, he said 60 families have reached in New Delhi from Pakistan from Feb 2 to Feb 16, while 10 families have reached a day ago.
He said that a total of 160 refuge families living in Delhi should be granted Indian citizenship on priority. He said that majority of the migrant refuge members are professionally qualified and willing to contribute to growth and economy of the India.
Sirsa said that many of them are anxious to start working in their respective professions to resume their daily life activities and requested the Union Home Minister Amit Shah to expediate their citizenship request.
Manjinder Singh Sirsa also added that he has spoken to Union Home Minister Amit Shah in this regard and told that Union Home Minister Amit Shah is very positive to their demand and has already instructed union Home Secreatary to find out any viable legal alternative to ensure dignified living to these families who has reached India leaving behind their movable and immovable properties in Pakistan which has been usurped and illegally taken over by Muslim Goons in Pakistan.
He said that migrant refuge – Hindu Sikh families young boys and girls have shown their keenness and commitment to enroll themselves in Indian Army and Para Military forces to serve the nation and giving befitting reply to enemy Pakistan on border.