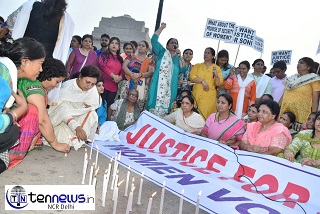 #DELHI WOMEN WILL SOON GHEREO DELHI COMMISSION FOR WOMEN TO DEMAND ACTION AGAINST AAP LEADERS HARRASSING OF WOMEN OR RESIGNATION OF ITS HEAD SWATI MALIWAL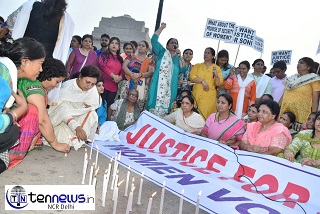 WOMEN VOICE
Dedicated to Women Rights & Empowerment
QU-294 A, Chitrakoot Society, Pitampura, Delhi-110088
Mobile – 9873314716
DELHI WOMEN WILL SOON GHEREO DELHI COMMISSION FOR WOMEN TO DEMAND ACTION AGAINST AAP LEADERS HARRASSING OF WOMEN OR RESIGNATION OF ITS HEAD SWATI MALIWAL
New Delhi, 24th July. Under the banner of WOMEN VOICE a large number women activists from all over Delhi assembled at India Gate demanding arrest of Aam Aadmi Party leader of Narela Ramesh Bhardwaj & MLA Sharad Chauhan whose harrasment forced their party colleague Smt. Soni to commit suicide.
Raising a demand of Justice for Soni hundreds of women including Municipal Councilor Smt. Rekha Gupta, Socio Political Activists Smt. Shaziya Illmi, Advocate Smt. Shikha Rai, Smt. Yogita Singh, Smt. Kiran Chadha, Former Councilor Smt. Vaishakha Salani, Architect Smt. Mamta Kale, Advocate Shubhra Prashar joined the Candle March Protest.
Addressing the Protestors Smt. Rekha Gupta said we are today passing through a sad phase where we have a Chief Minister who became a mass leader leading protests over Nirbhaya issue at this India Gate but today he sits mum watching his party leaders harassing women. She demanded a statement from CM Arvind Kejriwal over Smt. Soni's unfortunate suicide issue.
Smt. Rekha Gupta said that soon women will Ghereo the Delhi Commission for Women to demand action against women harassers of Aam Aadmi Party or seek the resignation of DCW head Smt. Swati Maliwal.
Smt. Shaziya Illmi who quit AAP in 2014 said that Arvind Kejriwal is basically anti women rights. This is the reason why Kejriwal has given no work to women in the party as well as in government nor does he gives attention to matters of women harassment.
Smt. Shikha Rai said that there is no place for women in AAP. Be it the killing of Ms. Sunita Koli framed as an accident or this recent murder designed as a suicide of Smt. Soni the CM Kejriwal remains a silent spectator on such issues in which the names of his partymen crop up as accused.
Smt. Vaishakha Salani said today women harassment has become a major issue in Delhi but the CM Kejriwal instead of paying attention to this is busy playing politics all over the country. She demanded that Chief Minister should pay immediate attention to women security in Delhi.
(Rama Gupa)
8130892054