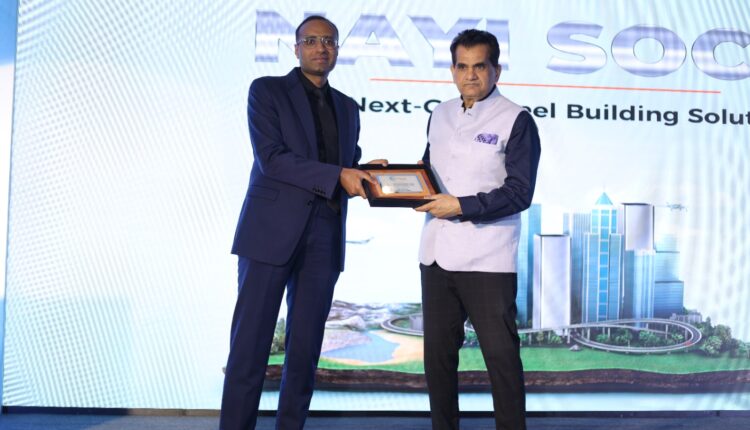 Dialogue with Amitabh Kant on Sustainable Construction Solutions

National, 31st May 2023: APL Apollo Tubes Ltd., supported by Construction Industry Development Council (CIDC), organized #Samwad [Dialogue with Amitabh Kant]. The event was graced by Mr Amitabh Kant, G20 Sherpa, Government of India, who addressed the need to make infrastructure more accessible, innovative and sustainable.
The forum witnessed key discussions around the role of innovative tubular structure technology and sustainable construction technologies in achieving net-zero carbon emissions and the fastest-growing USD 5 trillion economy.
APL Apollo, having launched their next-gen Steel Building Solutions (SBS)/ tubular technology that solves all inherent problems connected to traditional construction processes in terms of quality, cost, speed and sustainability, is encouraging faster technology adoption in advancing green construction.
Other dignitaries from reputed government bodies like CIDC (Construction Industry Development Council), DRDO (Defence Research Development Organisation) and individual contributors like- Climate Change Consultants were present to talk about the hybrid construction approach, accelerating sustainable economic growth & decarbonizing the construction sector of India in the face of current climate challenges with steel revolution.
Talking widely about the innovations in the construction industry, Mr Anubhav Gupta, Chief Strategy Officer, APL Apollo Tubes Ltd., said, "APL Apollo's next-generation Steel Building Solutions empower infrastructure development that is of the pinnacle in quality. In conjunction with this, the company seeks to create 'built structures', keeping sustainability and the environment future-proofed for future generations. The advanced technology-led approach in the construction industry is helping cater to the rising demands of the utility & functional infrastructures across. With the accelerated sustainable infrastructural growth & development, India can adopt green construction entirely, causing less climate challenges".
Today, Apollo is India's leading structural steel tube brand, with a 55% market share. With a local presence and clientele from over 20 countries, the company strives to strengthen India's 'infrastructure backbone' with its world-class construction quality.