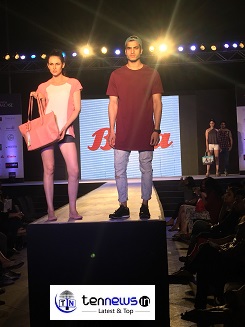 DLF Place, Saket hosts 'Femina Showcase'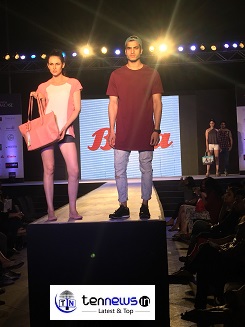 DLF Place, Saket hosts 'Femina Showcase'
Models showcased latest fashion apparel and accessories on the ramp
November, 2016: Taking a leap forward to connect people with fashion, city's favourite lifestyle destination, DLF Place, Saket hosted a fashion extravaganza- 'Femina Showcase' at the plaza on Saturday, 26th November, 2016, from 5:00 pm to 8:00 pm. 'Femina Showcase' served as the perfect platform for chic fashion brands to showcase their latest collection on the ramp within the mall.
Giving a modern twist to traditional attire, one of the most well-known designer labels, Satya Paul, presented its new collection of modern and classic sarees and stylish apparel. Models also walked down the ramp wearing sporty shoes and apparel by global sportswear brand Reebok. Exhibiting luxury and panache, watch brand Casio Sheen presented its latest collection of elegant watches for women. Bata and Hidesign also showcased their new collection of stylish and chic footwear. In addition to this, a special workshop was also conducted by Bausch and Lomb to showcase their range of eye health products and their benefits.
Combining fashion with fitness, a Q/A session was organized with renowned Nutritionist Kavita Devgan in association with Washington Apples, Pears and California Wallnuts, wherein she answered fitness queries asked by the visitors.
The fun filled evening was concluded with an entertaining dance performance which enthralled the audience.
Follow us on:
Facebook: dlfplacesaket
Instagram: dlfplace_saket
Twitter: @dlfplace
About DLF Place, Saket
Sprawled over 7,50,000 sq. ft., DLF Place, Saket is a premium lifestyle destination which promises to provide a consistent, vibrant shopping and entertainment experience in the heart of New Delhi. Over the last seven years, DLF Place, Saket has created a firm mark for itself in the shopping landscape of Delhi by hosting some of the best names in fashion, and also the entire gamut of jewellery and skin care; books, gifts and music; kids' brands and entertainment; and the best of Delhi's culinary offerings. A distinctive spectrum of luxury brands, premium designers, and high street labels makes it the ultimate lifestyle experience for all retail and entertainment needs across more than 150 retail points while consistently providing world-class customer service to its patrons.