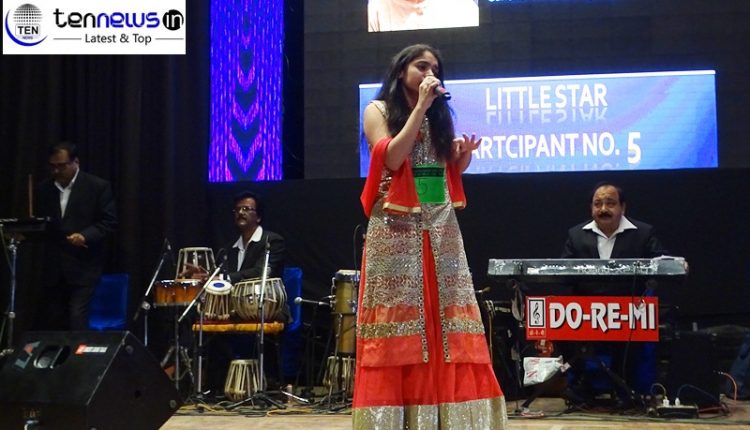 DMS Aarohi Voice of Delhi/NCR Grand Fianle Culminates in Delhi, Manoj Tiwari, Kumar Vishu appreciate initiative
ASHISH KEDIA / ROHIT SHARMA/ LOKESH GOSWAMI
(04/02/18) NEW DELHI :–
DMS Aarohi Musical Society today organized the Grand finale of Voice of Delhi NCR. DMS Aarohi is a cultural, Art, Stage & Film Based Society. It was established by founder President Pankaj Mathur in January 2013. This non profitable society is focused to keep alive the melodious music of Indian Cinema.
The grand finale on Saturday evening happened after six months of rigorous competitions where in different talented singers from Delhi NCR gave auditions and kept moving up through various stages of contest.
There were three age groups named Little Stars, Rockstar and Superstars in the competition and four categories namely classical/semi classical, album/Sufi and filmy. In the first age group 11 participants reached to the finale.
In the Rockstars category 10 people reached to the finale whereas in Superstars category 9 talented professionals exhibited their talent.
Delhi BJP President Manoj Tiwari also graced the event as Chief Guest and appreciated the performance of the participants. He enjoyed the melodious performances and commented that more and more such initiatives must be planned to give platform to talented individuals who have passion for singing.
DMS Aarohi Founder President Pankaj Mathur said, "It was a difficult journey of six months where in thousands of individuals were auditioned, judged and trained before bringing them all forward to this grand stage of finale. It feels really great to see the excitement of both participants and audience for singing and singers and DMS Aarohi will keep on highlighting and promoting more such talented individuals through these efforts".
The child prodigy and worlds youngest Tabla Player Rudraksh Shrivastava also performed during the event. He has been performing table since the age of 3 and had been named in Limca book of world record as youngest table player in the world.
Famous Bhajan Singer Kumar Vishu is judging Voice of Delhi-NCR Talent Hunt shaping star to stardom and praised the initiative to give such platform to the talented singers to exhibit such platform.
He said, "It is very difficult to categories between first-second-third in such tough competition and I think I should stop being a judge in such competitions as everyone is equally good".
For more photo's and videos please click on below links: