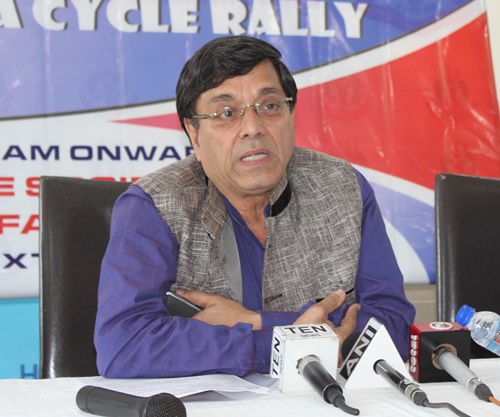 Doctors on Cycle: IMA to hold cycle rally on March 11 at 1725 centers to highlight flaws of NMC Bill
PHOTO/VIDEO – JITENDER PAL
STORY BY – KASHIF HASNAIN
New Delhi: In order to deprecate the current form of the National Medical Commission (NMC) Bill 2017 Indian Medial Association (IMA) to hold a nationwide cycle rally on March 11 across its all 1725 centers.
Moreover, IMA also planned to hold Doctors' Mahapanchayat on March 25, 2018 at Indira Gandhi Stadium, New Delhi to raise their voice against the bill where around 20,000 medical fraternities are anticipated to participate.
On February 25, 2018, IMA, National President Dr Ravi Wankhedkar, and Secretary General, Dr RN Tandon, embarked on a nationwide march 'IMA Bharat Yatra' in order to highlight the the current form of the National Medical Commission Bill 2017 to the common people from Kanyakumari and Kolkatta.
While addressing media, Secretary General of IMA, Dr RN Tandon said," The bill which has the potential to adversely alter the course of medical education and healthcare delivery in India will also make irrevocable damage if passed in its current forms."
The current form of NMC bill is anti-patient, Anti-poor, Anti-student, anti-doctor but pro-rich. "To highlight the flaws in the current form of bill, IMC has been holding nationwide cycle rally to create awareness and send strong message to the government to review the bill." He added.
Since the inception of the NMC Bill, IMA has been protesting against the bill, as a result the has not been tabled in the parliament and sent to the standing committee.
IMA has been claiming, certain clause in the bill has raised the topic to a fiercely debatable level. IMA which is a self-regulating body run by doctors has over 1725 local branches across the country and has flagged simultaneous Yatras across the country to generate awareness among masses.
To gain public support in the issue and to connect with society and consolidate the fraternity, CYCLE Rally is being organised all over lndia on 11th March, 2018 through 1725 Branches of IMA. This will carry message for common public on ill effects of Various Acts imposed on medical fraternity mainly focusing on National Medical Commission Bill.
Cycle Yatra will move from 4 corners of India on 12th & 18th March, 2018 and will culminate on 25th March, 2018 at Doctors' Mahapanchyat at New Delhi.