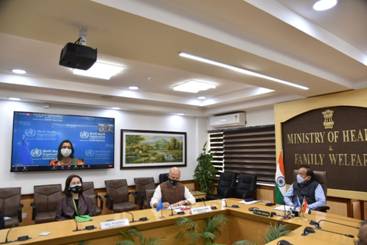 Dr Harsh Vardhan, Union Minister of Health and Family Welfare addressed the Tuberculosis Technical Consultants Network Teams comprised of WHO-National Professional Officers for TB and consultants from across the country through Video Conference, here today. He was joined by Dr Poonam Khetrapal Singh, Regional Director, WHO-SEARO,Dr Roderico Ofrin, WHO Representative to India.
At the outset, Dr Harsh Vardhan congratulated WHO for their continued support to India in its journey to eliminate TB by 2025. He thanked the organization for helping ICMR and the Indian Association of Preventive and Social Medicine in the recently conducted Sub-National Disease Certification. "We have now declared one UT, Lakshadweep and one District, Badgam in Jammu and Kashmir as TB free", he stated.
Dr Harsh Vardhan also detailed how WHO has always been a constant source of transformative change in all health matters "Right from technical support, research, policy, monitoring and evaluation, capacity building to public health communication and knowledge dissemination, WHO have always been there to support us; be it in drawing up the National Health Policy, or in initiatives like Ayushman Bharat, strengthening primary care through Health & Wellness Centresorpromotion of digital health." In this context, he reminisced the fruitful collaboration he had with WHO as Delhi's Health Minister and the exceptional role played by WHO in wiping out Polio myelitis from India which used to have 60% of the global case burden before 2009. India is polio free since 2011. He also further elaborated the support provided by WHO in the COVID crisis.
Highlighting the significant role the Consultant Network played under the National Tuberculosis Elimination Programme (NTEP) which has helped in reducing the gap of missing cases, and in achievi