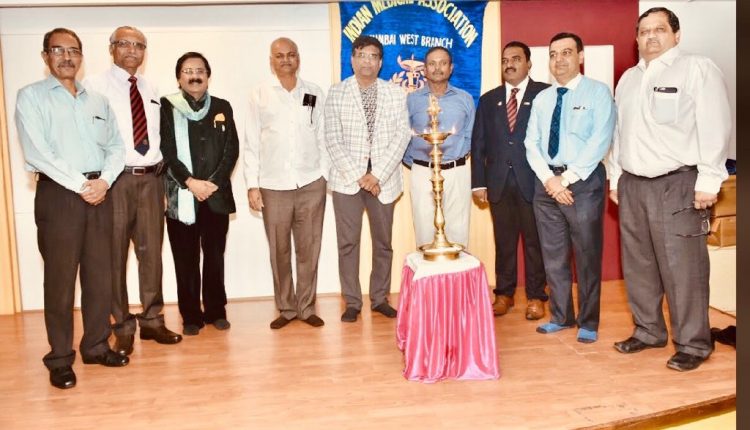 Indian Medical Association, India's prime Association of over three lakh Allopathic doctors and over 300 Branches all across India inaugurated one of the most needed Initiative for Sexual health (IISH).
The Plan of Action of this Initiative is to hold pan-India educational programmes and also adopt schools & colleges to educate one and all-students, teachers and parents by holding lectures, seminars, symposia, conferences and dialogues. IISH also plans to hold Fellowship Course and National Conferences in near future.
The Inauguration was done by Dr Ravi Wankhedkar, National President IMA, Padmashri Awardee, Dr T P Lahane, Jt Director of Medical education and Research, Shri R K Padmanabhan, Addl Director General of Police, Govt of Maharashtara, Prof Dr Deepak K Jumani, Chairman of IMA's Initiative for Sexual Health and many leaders of Indian Medical Association, which included Dr. Parthiv Sanghvi, State Secretary, Mahrashtra State Branch, IMA, Dr Suhas Kate, President IMA MW Br, Hony. Secretary Dr Rashmikant Sanghvi, Dr. Akil Contractor, Dr. Jayesh Lele, Dr. Mangesh Pate, Branch President, IMA Dombivali Branch and Dr Santosh Khadatare, Convenor, IISH.
This Inauguration was hosted by IMA Mumbai West Branch at their Juhu IMA House on 9th of June 2018 as a part of "World Sex Health day" celebrations.
Dr Ravi Wankhedkar, National President, IMA, in his inaugural address stressed the importance of this initiative and as sex is still a taboo, doctors across India need to break all the barriers and clinical inertias and ask their patients about, their sex life. He endorsed the dire need of pan – India Edu information to all the doctors across India and increase awareness about the same.
He also announced that on 1st of July this year which is a Doctor's Day, shall also be our " Zero Tolerance Day".
Padmashree Awardee Dr T P Lahane, Jt Director of Medical Education and Research, Govt of Maharashtra told that the most important need of the hour is unity amongst medical fraternity and in a healthy note validated this initiative for Sexual health as a very positive move by the IMA and congratulated Dr Ravi Wankhedkar for his dynamism and innovative activities. He also congratulated Dr Deepak Jumani, Asst Prof of Medicine at Sir JJ Group of Hospital for his passion and dedication in the field of Sexual health.
Shri R K Padmanabhan, Addl. Director General of Police, Govt of Maharashtra stressed on the fact that it is not only a medical issue, but also a social issue and in lieu of increase in Sexual Violence Education to younger generation, is of prime importance, which can only dispel the taboo associated with this subject. He, wholeheartedly thanked our National President Dr Ravi Wankhedkar for his dedication to IMA.