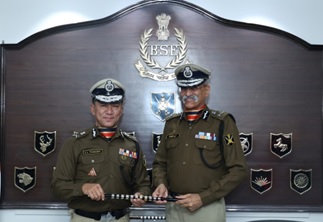 Dr. SUJOY LAL THAOSEN, IPS TAKES OVER THE CHARGE AS DIRECTOR GENERAL BORDER SECURITY FORCE
On 31st Dec 2022, Dr. Sujoy Lal Thaosen, IPS, Director General of CRPF took over additional charge of Director General of BSF, the largest Border Guarding Force of the world.
Dr. Sujoy Lal Thaosen, IPS, is an officer from the 1988 batch of the Indian Police Service of Madhya Pradesh Cadre. He is a Post Graduate in Political Studies from Jawaharlal Nehru University, New Delhi and completed Ph.D from Ujjain University, Madhya Pradesh.
He has served in various capacities in Madhya Pradesh Police and was deployed in United Nation's Mission in Bosnia and Herzegovina (UNMIBH) in 1999 – 2000. He has also served as DIG & IG in Special Protection Group (SPG) from 2004 to 2013.
Earlier he had a stint in Border Security Force (BSF) as ADG (ANO) and SDG (Logistics) from Feb 2020 to May 2022 and on promotion to the rank of Director General, he served as DG SSB and DG ITBP (Additional Charge) before taking over the charge of DG CRPF on 3rd Oct 2022.
Dr. Sujoy Lal Thaosen, IPS is a recipient of Police Medal for Meritorious Service in 2005, President's Police Medal for Distinguished Service in 2012, Special Duty Medal and Ati Utkrisht Seva Padak in 2021.