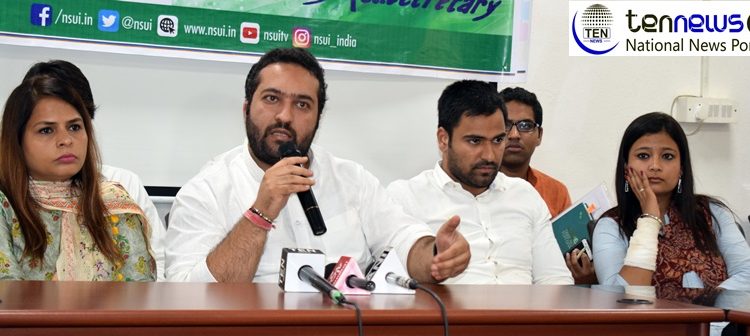 DUSU Elections 2018: NSUI Accuses ABVP for Terror Tactics to suppress voter count
Prerit Chauhan (Photo/Video) By Lokesh Goswami Ten News Delhi :
New Delhi: After All India Students Association (AISA) Kawalpreet Kaur and three of her friends were allegedly beaten up by goons in Delhi University. Another day of violence marred DUSU poll process as National General Secretary of NSUI, Karishma Thakur was attacked during campaign in Laxmi Bai College.
On Friday, National Students Union of India (NSUI), President, Fairoz Khan alleged that the attack on Karishma Thakur in campus with the blade was made by ABVP Goons.

Addressing a Press Conference, at Indian Youth Congress office, Fairoz Khan, National President of NSUI said,
"We all know NSUI brought peace to Delhi University in last year and reinstated the sanctity and gravity of university spaces. But from last month there's been an alarming rise in violence. Yesterday some of thugs of ABVP have attacked our beloved National General Secretary of NSUI and In-charge bof West Bengal Chhatra Parishad, Karishma Thakur during campaign in Laxmi Bai College. We condemn such cheap politics and use of muscle power by ABVP. "

Speaking to Ten News Victim, Karishma Thakur said, "The extent to which violence has marred DU campuses and DUSU politics is thought provoking. I was attacked by ABVP thugs and goons while i was campaigning in Laxmi Bai college at Delhi University."
"ABVP just want to Suppress the voter count by creating a environment of terror in campus," added Karishma.