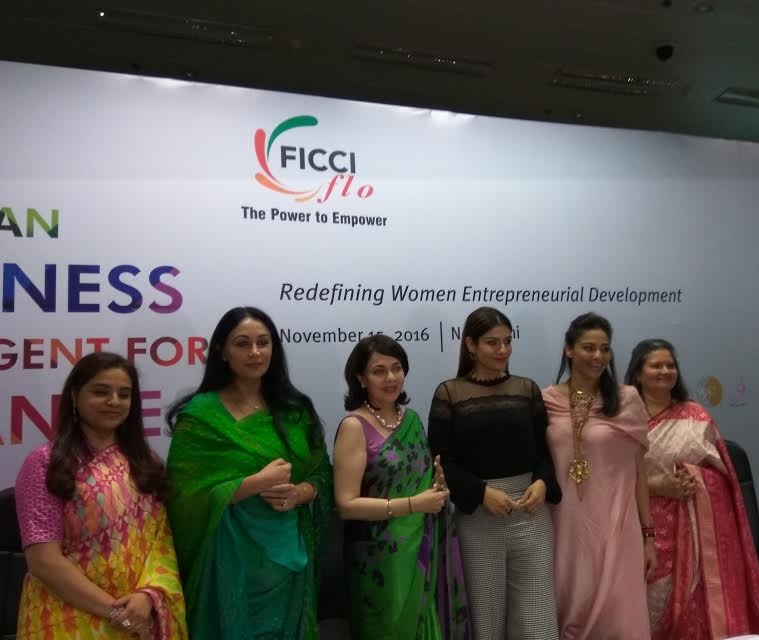 'DYUTI' launch by FLO opens avenues for women in the Jewellery industry
By Bipin Sharma
An exclusive women's wing of the apex business body, FICCI ladies Organisation (FLO) recently announced and unveiled its Start-up initiative 'DYUTI'. 'DYUTI' happens to be a multi-level marketing business model for generating employment for women in the jewellery industry which ironically has all these years been a male bastion pan India. The 'DYUTI' Start-up initiative has been launched under the aegis of Swayam, E commerce- support cell set up by FLO for women entrepreneurs in seek of support for nurturing, setting up and managing their business.
Speaking during the launch of the 'DYUTI' initiative at an interactive session titled 'Can business be an agent for change?', Vinita Bimbhet, President, FICCI Ladies Organisation (FLO) shared, "The business model 'DYUTI' has been specifically created to empower and enable women entrepreneurs to work from home, and connect them with the jewellery industry as well as the allied services. FLO's support and mentorship cell 'Swayam', an incubation centre for Start-ups has its focus solely towards women entrepreneurs by working as a vibrant tool to bolster both aspiring as well as the existing women entrepreneurs. Swayam panel comprises specialists who are well aware of the needs of Start-ups with the potential to help women grow and expand their businesses, and thus consequently impact their lives in the longer run. The key objective of SWAYAM is to align the right mentors to the women entrepreneurs in as many as 15 locations Pan India.  'DYUTI', under SWAYAM is a big leap forward in this direction."
Adding her inputs, Bela Badhalia, the conceptualizer of the initiative and FLO Governing Body Member and Past Chairperson of FLO Jaipur Chapter remarked, "Since the word 'Dyuti' goes synonymous with Goddess Laxmi, it is an exclusive business model designed entirely to create entrepreneurial opportunities for women who are efficiently managing their households or jobs, and aspire to have some additional income."
The cynosure of everyone's attention was undoubtedly the famous National Award winning Bollywood star Raveena Tandon who eloquently spoke about women empowerment and the grave need to rid the society of any gender disparity. Addressing an impressive gathering of guests, fellow members and special invitees, Raveena said, "Women entrepreneurs enjoy a distinctive edge over their male entrepreneurs, and this is going to radically change the story of the country's future and its approach towards creating economic value. Women will outperform for myriad valid reasons. Women leaders in India have a better understanding of the household spending patterns as they comprehend consumer perspective better. India can grow at over 10-11% if we include and integrate women in the economic process and the ambitious 'Make in India' program .We need to use their viral energy to build new businesses from traditional industry to Start-ups. They possess an inimitable way for building trust with customers and shareholders. As far as my Bollywood career is concerned, on the anvil are my two upcoming films named 'Shab' and 'Matr'. 'Shab' directed by Onir has newcomers Ashish Bist and Arpita while Ashtar Sayed's 'Matr' deals at length with the issue of 'violence against women'. 'Shab' is an emotional story, where I play a high-society woman who is in a relationship with a younger man, while 'Matr' happens to be a social drama. The script of the story struck an instant chord with me, and it is impressing to see how the script showcases an astute way of dealing with criminals indulging in crime against women, while remaining on the right side of the law. I strongly believe that as a society, we really need to change our laws in order to ensure their safety and overall well being."
Another highlight of the launch event was a captivating panel discussion titled "Can Business be an Agent for Change?". The distinguished panel included the likes of Princess Diya Kumari, MLA Sawai Madhopur, Jaipur,  Raveena Tandon, (Actor, Producer, Columnist & former Model) and entrepreneur Kalyani Saha Chawla. The eminent panellists enlisted various challenges that needed to be overcome for achieving the goal of women financial empowerment. Princess Diya Kumari, hailing from the illustrious royal family of Jaipur, is one of the most accomplished women of modern India. Actor, producer, columnist and a former model, RaveenaTandon, on the other hand, is a multi-talented and multi-faceted personality who loves living life to the fullest. Actively involved with UNICEF for the Girl Child and DAIRRC anti-drug organisation with Dr Yusuf Merchant, Raveena happens to be the Brand Ambassador of PETA, IDA, The Spina Bifida Association as well as the White Ribbon Alliance for Safe Motherhood.
Entrepreneur Kalyani Saha Chawla keen business sense is complemented by her flair for communications, which comes together for Koi. As the Vice President, Marketing & Communications, Christian Dior Couture India, she built the brand as the most visible in India.
While the 'DYUTI' launch may have opened new avenues for women in the Jewellery industry, the enthusiasm and die hard commitment of FLO members would pave the way for the launch of many more such enterprising frontiers and opportunities for women entrepreneurs!
A Single step and initiative by FLO, and a Giant leap for women empowerment and employment!!