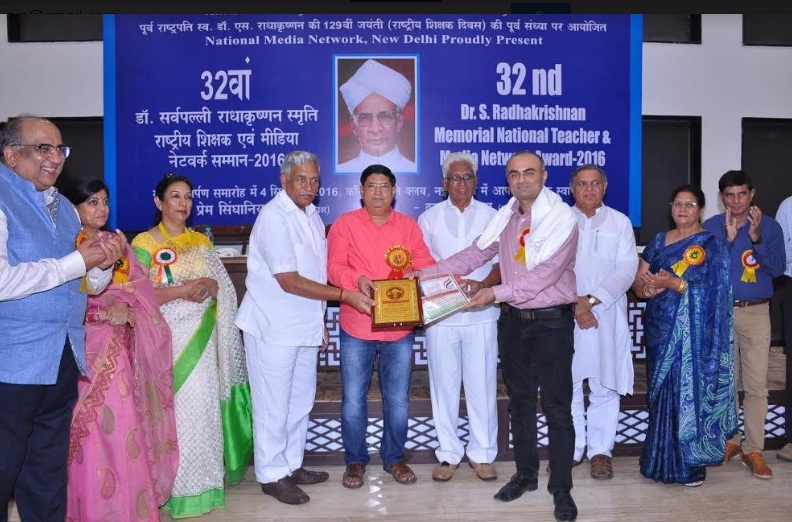 Educationists and Media personalities honored for their outstanding contribution at Constitution Club.
Another feather in the cap of Tennews.in as its Feature Editor gets honoured with the prestigious Dr S. Radhkrishnan Memorial Media Network Award-2016 in the field of Digital Media journalism
Eminent educationists and media personalities were honoured with the prestigious Dr S. Radhakrishnan Memorial National Teacher and Media Network Award- 2016 at the Constitution Club of India on 4th September. The Award program organized on the eve of Teacher's Day under the aegis of Akhil Bhartiya Swatantra Patrakar Avom Lekhak Sangh (Regd) happened to be the 32nd such event in succession.
This year's event coinciding with the 129th Birth Anniversary of former President of India Dr. Sarvapalli Radhakrishnan, was graced by stalwarts and distinguished personalities such as MP Udit Raj, Ram Niwas Goel (Speaker, Delhi Legislative Assembly), Dr Narender Nath (Former Delhi Education Minister), Prof Rajni Abbi (Former Delhi Mayor), Dr Yoganand Shastri (Former Speaker, Delhi Legislative Assembly) & Poetess Renu Hussain.
This annual event has not only gained more popularity with every passing year, but has been getting organized on a more elegant and flamboyant scale.
The two key pillars of Akhil Bhartiya Swatantra Patrakar Avom Lekhak Sangh all these years have been its President Prem Singhania and General Secretary Dayanand Vats who have been assiduously working to ensure the success of this event.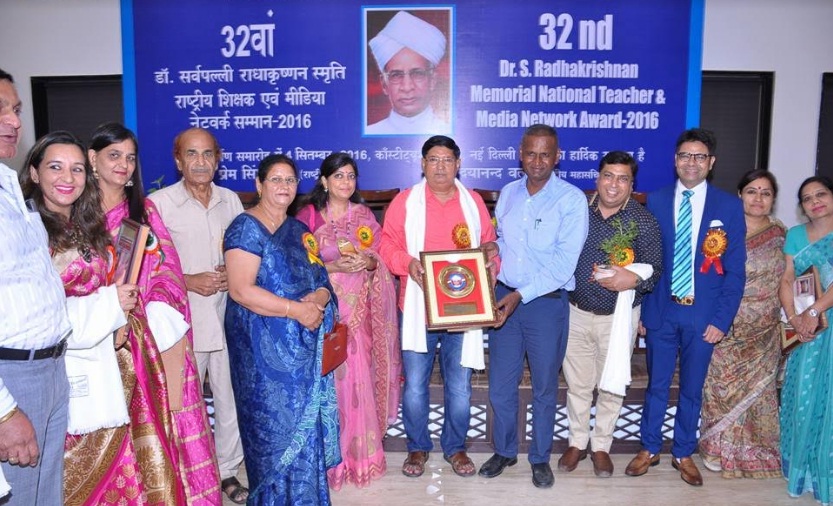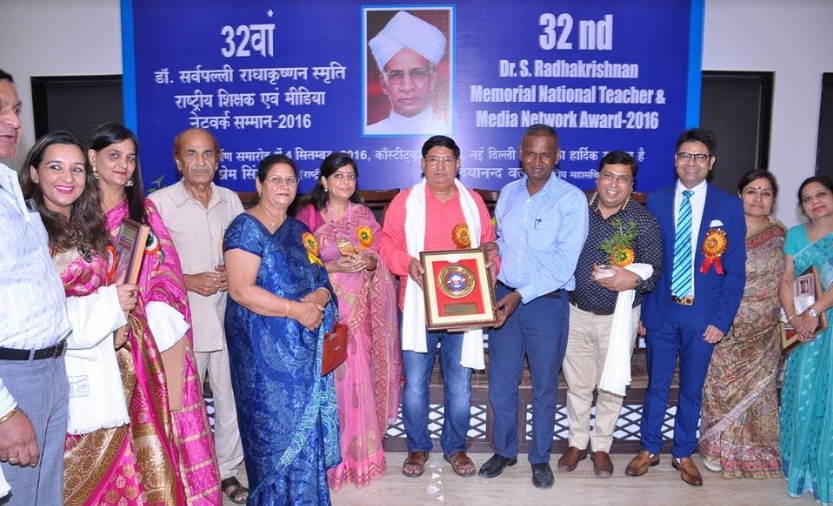 In this year's glittering function organized at the Constitution Club of India, media personalities who were felicitated included the likes of SN Singh, Doordarshan Kendra, S.S Bhakoo, OP Yadav, Ashok Singh Martolia, Chandrica Joshi (AIR), Anil Narendra (Daily Vir Arjun), Print and Digital Media journalist Bipin Sharma, Parakram Singh Shekhawat (LSTV), Kanchan Banerjee (Channel One), Abhishek Mehrotra (Exchange4Media), Rajan Sharma (Navodaya Times), Ranvir Gahlot (Mahanagar Mail), Satender Tripathi (Punjab Kesari), Tarun Vats (Univarta), Santosh Shukla (Alma Times), Rais Ahmad Lali (NKS Media), eminent writers Bansi Dhameja, RK Mohapatra, and Ghazal Maestro Satish Babbar to name a few.
In the category of Education, the awardees boasted of names like Renu Hussain (Sarvodya Vidyalaya), Meenu Kanwar (KR Mangalam World School), Mamta Sharma (Principal Aditi College, Bawana), Amit Ahuja (IP University), Prerna Malhotra (Ram Lal Anand College), Bharat Bhushan (Hansraj College), Dr Mona Bhatnagar, Dr Ram Kishor (Principal DIET, Karkardooma), Prabhash Ghai, Rashmi Manchanda, Vandana Kapoor, Sonia Kashyap, Rashmi Gupta, Aneeta Chopra, Alok Mishra (CRPF Public School, Rohini), Pallavi Chopra (DPS Rohini), Tanushree, Sudha Sharma, Ritu Pandit (Music Teacher), Dr Aparna, C.M.O, NDMC and some other's.
Speaking on the occasion, Dayanand Vats, General Secretary of Akhil Bhartiya Swatantra Patrakar Avom Lekhak Sangh said, "Our 32 year long journey has not been without hard struggle and tough challenges. Thanks to the untiring efforts, sincerity and the zeal of our core team members that Dr S. Radhakrishnan Memorial National Teacher's and Media Network Award is not only regarded as the most credible, but also as one of the most coveted Awards in the country. The Awards are given every year to meritorious personalities who have excelled in their respective fields. The winners have exemplified excellence amongst their peers in respective sector and regions. These awards intend to inspire others towards bigger achievements. Like every year, a Shawl, Momento and a Certificate of appreciation were given to the Awardees."
Distinguished personalities while hailing the role of Media and Educationist also urged them to play a more pivotal role in Nation Building by being 'Role Models' for the youth brigade.
In his brief speech, Dr Narender Nath, former Education Minister of Delhi government remarked, "It is incredible that Akhil Bhartiya Swatantra Patrakar Avom Lekhak Sangh has been organizing and hosting the excellence awards in the field of education and media since the past 32 years. The distinctive aspect about their program being how they manage to introduce a novel component into these awards every year. Dr S. Radhakrishnan Memoral National Teacher's and Media Network Award conferred on outstanding achievers by their organization has indeed been playing a crucial role in inspiring the brilliant achievers in various fields to scale even bigger heights. Educationists have a key role to play in the society which is why they are respected universally and remembered all their lives for their role in character building and holistic development. While there can be some exceptional instances of excesses having been committed by some teachers, it pains when we start painting everyone with the same brush. Taking teachers to task has become more frequent now with even a slight rebuke being treated as some sort of a serious offence. Children and their parents must realize and appreciate that if they are being admonished by their teachers, it is for their betterment, and to help them improve their performance. Barring exceptions, no teacher would unnecessarily punish or rebuke a child. Teaching is unquestionably noblest of all professions."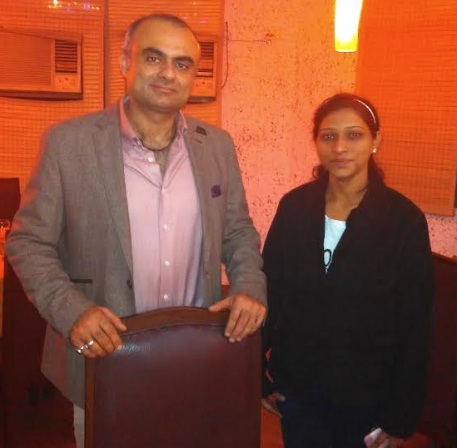 (Bipin Sharma,Features Editor,  tennews.in … Sunita Mali, Associate Editor, tennews.in)
The Award's evening was special for Tennnews.in as their Features Editor Bipin Sharma was felicitated for his special political features-reports, and stupendous contribution in the field of Digital Media Journalism.
Tennews.in floated by a group of conscientious citizens with a common passion for news is dedicated to the latest and Top Ten news of India from ten news genres. Strict adherence to journalistic ethics and values is their USP.
Feeling delighted with the honour bestowed, a joyful Sunita Mali, Associate Editor, tennews.in cheered, "Any award or honour is a recognition of the hard work and passion involved. Tennews.in (TDI) was launched by the Union Minister of State for Tourism & Culture (Independent charge) Dr Mahesh Sharma on Diwali in 2013. Tennews.in is a wholesome portal covering all aspects of life, and their content is broadly divided into varied slugs namely news, events, interviews, news articles, profiles, editorials, polls and opinion etc. Tennews.in informs the people not just about the NCR Delhi region, but also about the important happenings on the national and international front. They ensure that they give Top 10 news of the day daily, sans any failure, so that citizens are kept abreast of the latest happening around them. Over the years, tennews.in has expanded its brand portfolio to seize opportunities in the allied fields as well, like mobile apps. Its subsidiaries include city information portals attachowk.com, parichowk.com and vijaychowk.com. It has also made its presence felt in the newest social networking mode i.e. whatsapp groups to broadcast news. Besides, it also shares news through the bulk sms and emails."
One of the awardees Bansi Dhameja, an eminent Writer, Social Reformer and Thinker shared, "Special gratitude to the jury that chose me to be one of the recipients of this special honour. The Award means a lot to me since it is a recognition of the efforts that have gone into writing my first book titled "Mann Ke Moti", which is a compilation of poems. In fact, to be more literally correct, the award is a laurel and accomplishment for "Mann Ke Moti" that is embedded with a deep rooted message for the society. Need I say that the award will inspire me to not just write on more pertinent issues concerning the common man, but will also rouse me to dedicate myself towards those in need of real education and guidance. I strongly feel that the crime rate in our country can be drastically brought down if our youngsters are given regular lessons in morality and holistic values. Mere rhetoric or lip service won't suffice."
The distinguished personalities and the Guest of Honour's gracefully obliged all those seeking to have their pictures clicked with them. The awards ceremony was followed by high tea and light snacks.