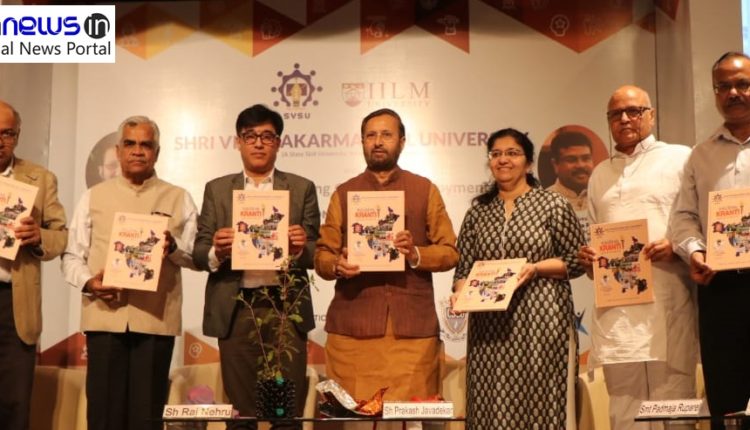 New Delhi;Shri Vishwakarma Skill University on Monday organised a National Workshop on "Bharat Marching towards Optimum Employability through Education" on in association with National Working Group and IILM University. The event was held at IILM, Lodhi Road.
The workshop was inaugurated by Union Minister of Ministry of Human Resource Development (MHRD) Prakash Javadekar.
The Chief Guest in his address stressed that curriculum revision is of utmost importance in Universities and Educational establishments as with changing times which the curriculum must be in sync and in close coordination with industry and research. He opined that Industry and research centre can tie-up with each other and uses research centre labs for the practice according to the needs of vocational programme.
He also talked about idea of starting BA Professional and BSc Professional programs by 2020 which would be job oriented rather than general.
Dharmender Pradhan,Union Minister of Ministry of Skill Development & Entrepreneurship (MSDE) also graced the occasion as Chief Guest and delivered the valedictory speech.
He said that there is need to focus on what will be the future jobs and what are related skills required for the same. Bharat should look forward for international skill and employment basket. There is a need to focus on future skills and advanced technology training programmes.
He also stressed on developing digital platform based service and manufacturing sector. He called the skill university to take initiative in preparing that road map for skill requirements at national and international level.
Some eminent speakers at the workshop were Sanjeev Bikhchandani , MD Naukri.com , Dr Anirudh Deshpande , Educator & Social Worker .Nishant Arya of JBM Group, Rajesh Agarwal IAS Joint Secretary MSDE , Ashish Gupta CEO Docprime and CTO Policybazar , Ms.Padmaja Ruparel Co-Founder India Angel Network among others.
Nishant Arya,Executive Director JBM Group spoke on Industry 4.0 , Green Mobility across manufacturing industry and significant role of education in preparing skilled human resources.
Ashish Gupta CEO Docprime and CTO policybazar shared his views on the growth of service sector.
Kashimiri Lal, a prominent Educationist and Social Worker also addressed the audience and stressed on the importance of Industry integrated Dual Education program in the changing scenario of skilling.
The Vote of Thanks for the first session before lunch was given by Dr.Rajkumar Mittal, Vice Chancellor Chaudhary Bansi Lal University and for the second session was given by Dr Sujata Sahi , Vice Chancellor IILM University.
MD,Bikanervala Shyam Sunder Agarwal was also present in the discussion where he shared that his life was not that easy as it looks. Struggle is a part of successful life. Farming was the main point of discussion according to him, and he shared that farming contributes a lot more to the GDP, lot more then people generally think.