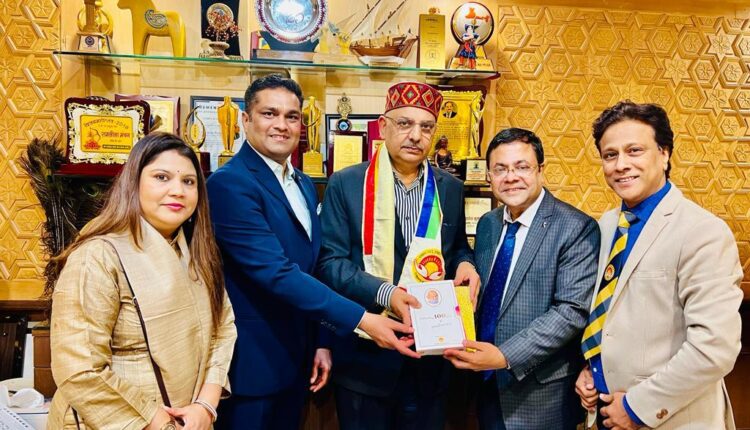 EPCH – Terapanth Professional Forum join hands for professional help to Handicrafts sector
TEN NEWS NETWORK
New Delhi, 9th Dec, 2022: Today an MoU has been signed between Export Promotional Council for Handicrafts and Terapanth Professional Forum (TPF) to help each other in sharing expertise on various fields like taxation, skilling, export documentation etc., informed Rakesh Kumar, Director General-EPCH.
Terapanth Professional Forum is a body comprising of 7000+ professionally qualified individuals e.g. Advocates, Doctors, Chartered Accountants, MBAs, MCAs, Engineers, Civil Servants, PhDs, Professors, etc. belonging to the Terapanth Samaj across India and serves the society at large through intellect services in their respective fields.
The MoU was signed in the presence of Rakesh Kumar, Director General-EPCH, Pankaj Ostwal, National President-TPF; Rajesh Kumar Jain-Delhi President-TPF; Abhay Chandalia-National Executive Committee Member-TPF and Kavita Bardia-Delhi Secretary-TPF.
Through MoU, EPCH would be seeking professional help for its members with respect to GST, Corporate Tax, Income Tax and other export taxation from TPF and will help TPF in imparting export procedure and documentation know-how to its members.
EPCH is a nodal agency for promoting exports of handicrafts from the Country to various destinations of the world and projecting India's image abroad as reliable supplier of high quality of handicrafts goods & services. The Handicrafts exports during the year 2021-22 was Rs. 33253.00 Crores (US $ 4459.76 Million) registering a growth of 29.49% in rupee term & 28.90% in dollar terms over the previous year, informed by Rakesh Kumar, Director General, EPCH.