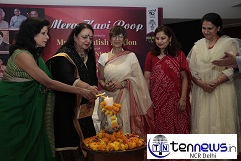 An evening showcasing the poetic talent of celebrities from diverse fields "MERA KAVI ROOP"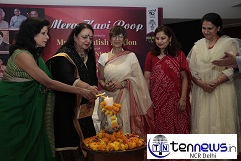 An evening showcasing the poetic talent of celebrities from diverse fields "MERA KAVI ROOP"
New Delhi, May 2016, With the intent of providing visibility to contemporary poets and to give the public easy access to a rich and creative literary world, NGO SAKSHI-SIET organized a feast of poems, Mera Kavi Roop at the India Habitat Centre, New Delhi, where poems of eminent individuals from different walks of life were showcased The concept behind this program was to show to the audience that the usage of words in daily life to express emotions or describe situations encountered in life, can bring to the listener an emotionally rich and expressive imagery. This compels the listener to think more deeply and to actually act towards changing the ills one perceives in Society
The programme was outstanding and had some mesmerizing poems . Performers onstage were ; Shovana Narayan Traxl (Kathak Guru), Shri Tarun Vijay (MP Rajya Sabha), Nalini (Eminent dancer), Ustad Iqbal Ahmed Khan (Renowned Classical Singer and Khalifa of Delhi Gharana), Sanjiv Jain (Judge), Pandit Vijay Shankar Mishra (Musicologist and Tabla Guru), Vishwamitra (Golf Caddy), Prem Bhatia (Yoga Guru), Lavlin Thadani (Movie maker and Actress), Rama Pandey (Movie Maker), Sarwajeet Sarw (Theatre personality), Sandeep Marwah (Founder of Marwah Film and Television Institute), Laxmi Shankar Bajpai (Acclaimed poet, litterateur, Famous TV & Radio broadcaster), Pratap Somvanshi (Editor & Journalist) and Mamta Kiran (Tv and Radio journalist and Poetess). The program was anchored by the  highly acclaimed poet Laxmi Shankar Bajpai (Former DDG, AIR).
The celebrities presented a fresh perspective to the audience and many listeners found their unspoken thoughts couched and expressed in the verse of these Poets. They took subjects from daily life to current affairs to happiness, sorrows, society, mother, daughter, gudiya, relationship, nature, raas-leela amongst others for their poetry and received the great appreciation.. It also brings greater meaning and depth to the celebrations and family relationships
Poetry is an extremely strong medium of expression and when a poem is written by a master of the craft, it brings forth the beauty and sensitivity of the thoughts expressed in poignantly unforgettable terms. We have showcased the poetry of these eminent individuals who have achieved acclaim in their chosen walks of life but their talent for poetry has remained less well known, says Dr. Mridula Tandon (President, SAKSHI-SIET). It is the proper use of language and the enormous potential for communicating emotions and ideas which led to the commonly heard saying – The pen is mightier than the sword. Dr. Tandon's intent is to make the public aware of, and to reclaim the charm and beauty of good literature and inspirational values. The celebrities who recited their poems are all extremely accomplished and busy individuals , despite this they have found the time to pen their thoughts on various topics which touched an emotional chord in their hearts. If this accomplishment can be honed to a perfection by such busy people, then surely the average man too should be inspired and will feel encouraged to put into words his reactions and feelings to daily life. This is the first major step in involving the intellect and in being an agent for the common good.
Sandeep Marwah mentioned about getting inspired by the struggle he came through and he recites poem what he wrote during that time. He said, while establishing the film city, we had to face lots of criticism, negative thoughts, and many other hurdles but he never give up and everybody knows about the status of film city today.
I'm a dancer, not a poet and if I write whenever I feel like writing. It's may be because of the family atmosphere, my mother was a socialite and I use to visit the village with her, all these enable me to write and bring the beauty & essence of words to my writings, said Shovana Narayan. She recited poem about a friend struggling to change life in a village and Kunti's life.
for more information, please contact; Shailesh K. Nevatia: 9716549754