Farmers pour out their woes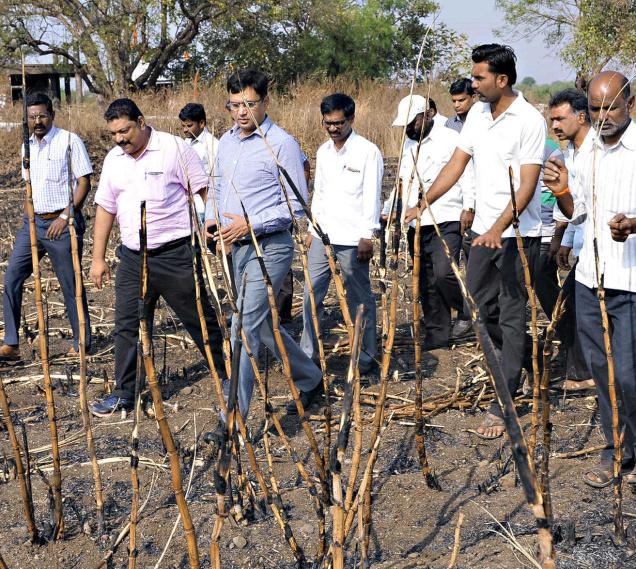 Farmers hit by drought poured out their woes before a team of officials who came to assess the drought conditions in the district on Wednesday. They spoke of the failure of crops for six kharif and five rabi seasons and the serious water scarcity across the district.
"We don't have grain to eat and water to drink. What shall we feed our cattle," the farmers asked the Union government officials. They were reacting to officials who said that the damaged jowar crop could be used as fodder. Nagappa and Basavaraj Patil of Koutha village were some among the group of farmers the officials interacted with on Bidar-Aurad road. When asked about the cost of cultivation, Mr. Nagappa said that every year, he harvested around 8-10 quintals of jowar, but this year, his whole crop was damaged.
Srimanth Biradar from Aurad, urged the government to set up fodder banks and 'goshalas' to help farmers take care for their animals. If the government does not give us grass, let it pay us some money to buy the fodder, he said.
The team stopped on the Koutha bridge to look at the dried up Manjra. Farmers' leader Vishwanath Patil Koutha said that he was aged over 80 and had never seen the river dry up so much. Streams and wells have dried up on both sides of the river bank, he said. Prakash Bavuge, a farmer, said that the district was suffering from severe water scarcity. The government had not taken any steps despite knowing that people were buying water from private tankers in 30-40 villages, he said. Deputy Commissioner Anurag Tewari said that work on providing drinking water supply would start soon according to a detailed action plan prepared by the task forces in the taluks and the zilla panchayat.
The team of officials comprised of Rashtriya Krishi Vikas Yojana joint secretary Dinesh Kumar, Narender Kumar, director, Wheat Development, Ghaziabad, and H.K. Muniyellappa, Joint Commissioner, Department of Animal Husbandry and Fisheries and other officials. Zilla panchayat chief executive officer Pavan Kumar Malapati and other district officials were also present.
A presentation made to the team by the district administration said that crops over 1,11,242 hectares of land (around 30 per cent of the total cultivated land in the district) were damaged.
They sought a compensation of Rs. 68 crore from the Union government. This will include Rs. 34.19 crore for small and marginal farmers and Rs. 29.79 crore for other farmers.
Government urged to set up fodder banks and 'goshalas' to help farmers