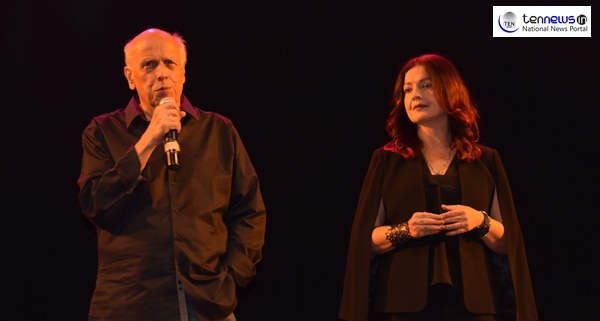 New Delhi: Ace filmmaker Mahesh Bhatt and his daughter Pooja Bhatt were in Delhi for screening of their play Daddy, which was inspired from Mahesh Bhatt's super hit film 'Daddy'.
Daddy was the debut film of Pooja Bhatt and was written by his father Mahesh Bhatt. It is a story of an alcoholic father, who is successful man and a habitual drinker but his daughter who hates alcohol persuade him to leave alcohol.
Before the screening of the drama, which happened in Sri Ram Centre, New Delhi duo shared their journey of leaving alcoholism. 
"I was a successful filmmaker, once, when I returned home from party, the daughter Shaheen turned her face from me. This incident totally changed my life. I quit drinking and wrote Daddy. It has been three decades since and I have not consumed alcohol," said filmmaker Mahesh Bhatt while interacting with the audience.
Later, his daughter Pooja Bhatt said, "I have seen how alcohol ruins family and after the success of 'Daddy' I too started drinking. The situation turned worse, when my marriage ended. Then few words of my father (Mahesh Bhatt) changed my life."
While sharing this incident, she became emotional and her eyes were full of tears. She said that on one fine day, I texted my father, 'Papa I love you very much, and you are the only hope of life.' Then, he replied, 'If you love me, love yourself, because I live in you.' 
"I know the meaning of those words and what he actually wanted to say. At the same time I promised to quit alcohol and back to normal life. He (Mahesh Bhatt) never forced me to quit alcohol but I realized it. It has been 18 months, since I have not drink liquor."