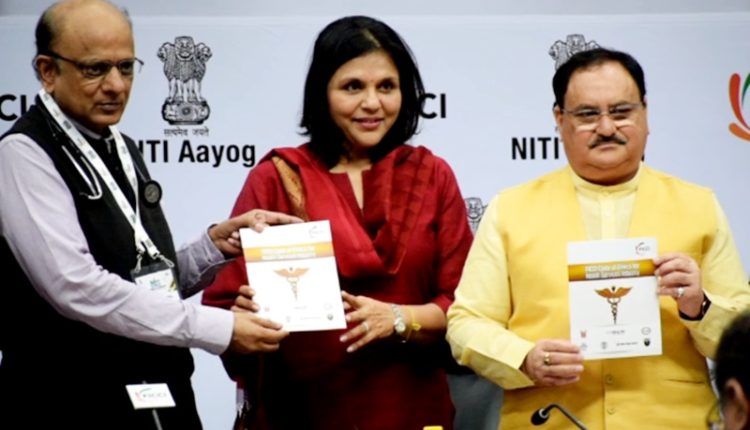 FICCI Organises 12th edition of 'FICCI HEAL 2018' with theme of Healthcare at Crossroads!
Prerit Chauhan / Lokesh Goswami
New Delhi: FICCI on Thursday organized a Conference, 'FICCI HEAL 2018' on the theme, "Healthcare at Crossroads" at FICCI, New Delhi. The Conference objective was to deliberate on the challenges and opportunities to not only increase the penetration of quality health services in the country but also bridge the trust deficit amongst the stakeholders for better collaboration in the future.
The Conference was graced by the conglomeration of CEO's, policy makers, national and international leaders from healthcare and allied industries where they discussed on policy framework and shared their knowledge and best practices to improve quality of Health care in India.
Giving briefing on FICCI Heal and FICCI costing study, Dr. Arvind Lal, chair, FICCI health services Committe and CMD, Dr Lal Pathlabs, said,
"Healthcare has become one of the largest sectors in our economy, which has world class tertiary services. India is becoming a favourable destination in the healthcare sector all over the world. There are many factors such as more money, political willingness, good investment for public and primary healthcare system for delivering better health care for people is the need of the hour."
Union Health and Family Welfare Minister JP Nadda released the FICCI Code of Ethics for the Healthcare Industry, in his address he said,
"I have urge all the stockholders to come on a joint forum to discuss the policies & program implementation plans. Ayushman Bharat Pradhan Mantri Jan Arogya Yojna is a paradigm shift in India's healthcare sector. We aim to provide quality health care to all through this innovative move."
He further said, "We're keen to have synergies with all players and make healthcare affordable to all, poor & marginal. Keen to partner on policies & programs with multi-stakeholders. A continuous process to fine tune programs with inputs from all."
Speaking to Ten News, Dr Raj K Mani, CEO, Nayati Healthcare, said,
"It was interesting to hear the discussions on Ayushman Bharat as we all work together in bringing health care closer to homes at the FICCI HEAL 2018 conference. I personally feel Health should not be seen in isolation but linked with education, management etc."