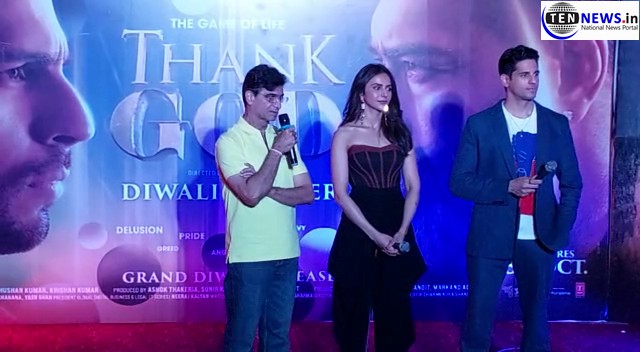 Film Mein Dharma Nahi, Karma Hai: Thank God Director Indra Kumar on controversy around film
Ten News Network

New Delhi, 22 October 2022: Following the Supreme Court's refusal to hear urgent petition challenging the release of movie 'Thank God', Director Indra Kumar argued that the movie does not depict any Dharma (religion), but focuses on Karma (actions).
Talking about the general notion being propagated, particularly on religion-based content, Kumar said, "People judge quickly, that's wrong. I am repeating this again, the movie does not have anything to do with any religion rather it speaks about the right deeds and actions of people. But if the movie has hurt the sentiments of the people, we apologise as it was not the intention."
According to the director, the main message in of the movie 'Thank God' is that the people must right their wrongs, try to do good things, good deeds that will definitely pay off later as what goes around comes around.
Simultaneously, Actor Sidharth Malhotra addressed the clash of his movie with Ram Setu, and wished Akshay Kumar best of luck. "This is the first Diwali after pandemic and there is 100% occupancy. There is enough for people to go and watch both the films," he added.