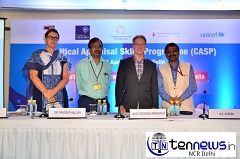 First Critical Appraisal Skills Programme in Public Health Journalism by #UNICEF, IIMC, University of Oxford, GIGH and Thomson Reuters Foundation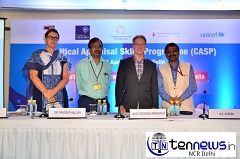 First Critical Appraisal Skills Programme in Public Health Journalism by
UNICEF, IIMC, University of Oxford, GIGH and Thomson Reuters Foundation
New Delhi, 25th April 2016—The first-of-its-kind 'Critical Appraisal Skills' (CASP) course certificate in Public Health Journalism and Communication, was awarded to 40 budding media professionals from the Indian Institute of Mass Communication here today. Conceptualised by UNICEF, the CASP was designed in partnership with the University of Oxford, Thomson Reuters Foundation, George Institute of Global Health (GIGH) and adapted by IIMC in India.  The course is a skill-building initiative for media professionals, and offers a unique opportunity to specialise in evidence-based reportage on public health issues.
In his message, Shri Sunil Arora, Secretary, Ministry of Information and Broadcasting said, "It is important to build skills of media professionals, especially media students, as it would have a visionary impact on reportage leading to more evidence-based coverage of crucial subjects such as public health and related development issues"
The course, currently offered to public health professionals in the UK, has been adapted for the first time in India for media professionals under the GAVI-Health System Strengthening Plan 2014-16, to create awareness around routine immunisation and child survival.
In his inaugural speech, Mr. Louis-Georges Arsenault, UNICEF Country Representative, spoke about an urgent need to work in partnership with media for highlighting critical issues of health and child survival. "Our consultations with media and journalism schools across the country gave us key insights on the need to make a valuable yet simple course which enables a scientific and evidence-based approach to reporting public health issues, especially those concerning child survival."
On this momentous occasion, Shri K.G. Suresh, Director General, IIMC, while congratulating the students, said, "This sensitisation of media students and journalists is important and will enable them to write more substantively on public health issues. So when IIMC was chosen to do the pilot for the programme, we gladly accepted to co-create and manage this pilot project with UNICEF and with other international and national partners."
IIMC customised and piloted the course at its campus in Delhi, over a period of three months. The students received the certificates in the presence of Dr. Pradeep Haldar, Deputy Commissioner, Immunisation, Ministry of Health and Family Welfare, Mr. Louis Georges Arsenault, UNICEF Representative to India, and Shri K.G. Suresh, Director General, IIMC.
Bearing in mind the instrumental role of media in supporting and enriching quality discourse on Public health and hence increasing acceptance of critical health initiatives, this programme has been undertaken by UNICEF, in association with the Ministry of Health and Family Welfare, and partners to promote and support a holistic environment for visibility around RI, under the Government of India's flagship Mission Indradhanush programme.
In his address, Dr. Pradeep Haldar, Deputy Commissioner, Immunisation, Ministry of Health and Family Welfare, said, "India's Universal Immunization Programme is one of the largest immunization programmes in the world and a major public health intervention in the country. Our focus is to give maximum protection to the children against Vaccine Preventable Diseases (VPDs) through Mission Indradhanush. These life-saving vaccines will not only improve the health of our children but also reduce hospitalization and other conditions associated with VPDs among children, thereby reducing the health cost burden of the country".
The evaluation of the programme showcased how overall more than 90% of the students found the course experience to be satisfactory and highlighted key learning which will help to make the course content more robust. Leading academicians, communication professionals, senior editors and journalists from key media groups were present at the ceremony.
In 2016, UNICEF and partners are looking to scale up the initiative by associating with media universities and schools, for taking this course forward through classroom teaching and online medium.
Note to the Editors
CASP:  Critical Appraisal is a process of carefully and systematically analysing evidence to judge its trustworthiness, value and relevance in a particular context. The steps involve asking the right questions, getting the best evidence, tracking the right source of information, critically appraising the evidence and contextualizing news.
For more information, please contact:
UNICEF Indian Institute of Mass Communication