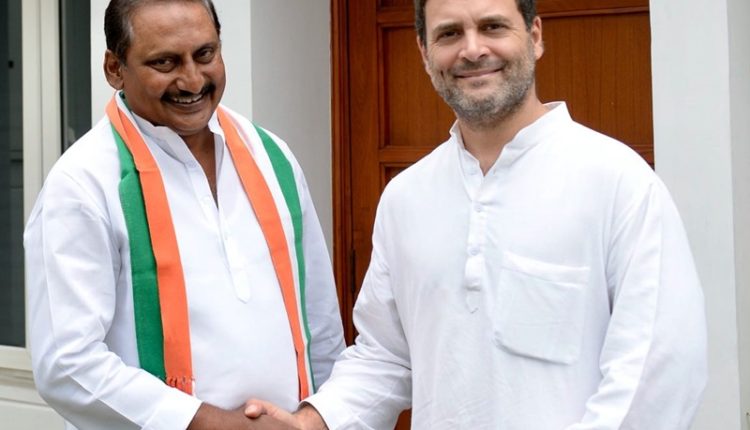 Former Andhra Pradesh CM Kiran Reddy rejoins Congress party
Kashif Hasnain (Photo/Video) By Lokesh Goswami Ten News Delhi :
New Delhi: Former Chief Minister of undivided Andhra Pradesh and senior state leader Kiran Kumar Reddy rejoined the Congress party after four years on Friday at party headquarter after meeting with Congress president Rahul Gandhi.
Kiran Kumar Reddy, who succeeded K Rosaiah as Chief Minster, had left the Congress in 2014 in protest against the bifurcation of the state. He had voiced his disapproval both within the assembly as well as outside it. He played an instrumental role in the Samaikyandhra Movement, led by president of APNGOs Association P Ashok Babu, which opposed the bifurcation during that period.
However, after the AP Reorganisation Act 2014 was passed in the Parliament, Kiran Kumar Reddy quit the party and floated Jai Samaikyandhra Party and contested the elections unsuccessfully.
Addressing media after joining party, Kiran Kumar Reddy said that he is happy by returning to the party. "Whatever I'm today and my father was because of Congress. The party gave us identity and name."
Speaking on the step motherly treatment by the NDA government, he said, "The union government has betrayed the people of Andhra Pradesh. They (Union government) neither gave any special package nor fulfilled the demands which were mentioned in the partition bill of Andhra Pradesh and Telangana. Only Congress can do that and we are very hopeful for 2019 election."
Replying to the question of why you are returning to the same party which had betrayed you, he replied, "The current government has not done anything for Andhra in last four years and the only hope is Congress."