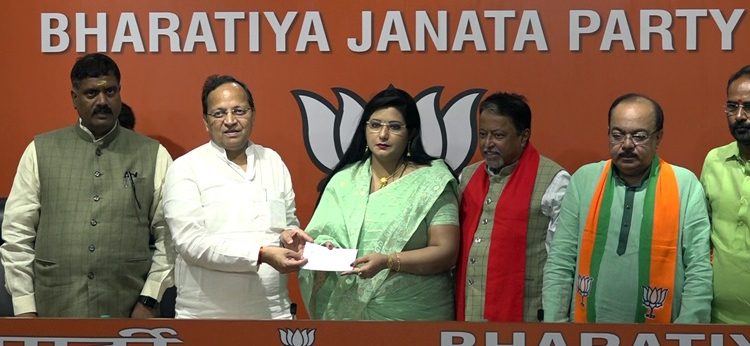 Former Kolkata Mayor and TMC MLA Sovan Chatterjee, joins BJP
Saurabh Kumar (Photo-Video) Lokesh Goswami Tennews New Delhi :
Former Kolkata Mayor Sovan Chatterjee and his close friend Baisakhi Banerjee joined the BJP at the party headquarters in New Delhi on Wednesday.
Before joining, the two met BJP leaders Arvind Menon and Mukul Roy. While Sovan is the MLA from Behala East assembly constituency, Baisakhi was a former TMC leader and headed its education cell.
Interestingly, actress-cum-TMC leader Debashree Roy was also present at the BJP headquarters but was not seen on the dais even as Chatterjee and Banerjee were officially inducted into the party.
"I am happy to join the BJP as I believe in Prime Minister Narendra Modi's and Amit Shah's determination in making a strong India," Chatterjee said.
In November last year, Chatterjee, once a close aide of West Bengal Chief Minister Mamata Banerjee, resigned as Kolkata Mayor over alleged differences with her.
It was learnt that Banerjee, over the last year, had been was unhappy with his lack of interest in day-to-day administrative and civic responsibilities due to a divorce battle with wife Ratna. At an event organised by the Fire Department in Kolkata last year, the chief minister had come down heavily on Sovan.
Both the Central Bureau of Investigation (CBI) and the Enforcement Directorate (ED) had interrogated Chatterjee a few times in connection with the Narada sting scam. The Kolkata mayor was allegedly shown in the tapes accepting money from a businessman and then wrapping the case in a towel.