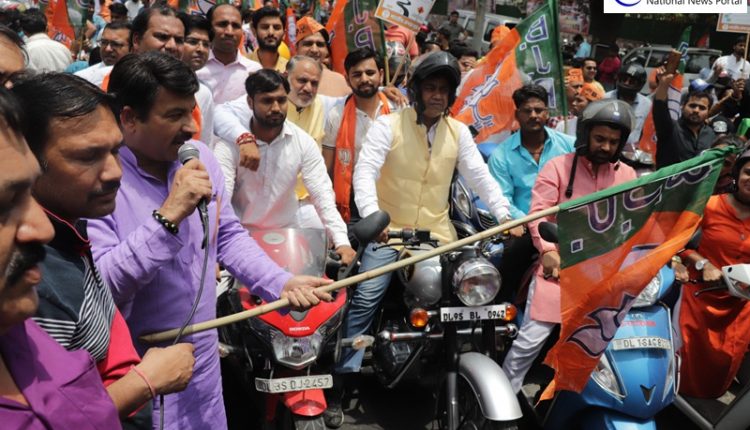 New Delhi: In a bid to promote achievements of BJP-led NDA government in national capital, Youth wing of Delhi BJP held a massive bike rally today, however, the rally overruled many traffic norms and traffic personnels were standing as mute spectator.
Surprisingly, in the 10-days long bike rally which was flagged off by the Delhi BJP president from party office at 12 pm today, had not only many youth wing workers but even the vice-president of Delhi BJP Jai Prakash riding without an helmet.
On completing four years of the NDA government, BJP has launched several nation-wide campaign to reach every nook and corner of the country and showcase the achievement of the Narendra Modi government.
In this row, Delhi BJP launched 10 days long motorcycle campaign in the Delhi aimed to reach every house of the city and spell the achievements of the Narendara Modi government. Thousands of the youth wing workers took part in the rally carrying party's flag in their hands or in the bike and chanting pro-government slogans.
When asked about the violation of traffic norms with Delhi BJP president Manoj Tiwari, he replied, "As I flagged off the rally, I advised them to wear helmets by purchasing it at the next stop of the rally and follow traffic rules".
As could be seen in the video, Delhi BJP chief flagging off the massive bike rally, where hundreds of youth workers including vice-president of Delhi BJP Jai Prakash are riding bike without helmet and a traffic personnel is watching them.
When matter was raised before the Jai Prakash, he opted not to comment on that issue.
Earlier, Delhi BJP president and vice-president held a press conference and said that to spell the achievements of NDA government among the Delhiites the bike rally is being organised, and it will touch every booth of the city in next 10 days.
Targeting Congress, meanwhile, Manoj Tiwari said, "It is a comparison between 48 years of Congress regime verses 48 months of BJP regime. There is no match between the duo and we are taking this massage to the every house of this city and spell the achievement of Modi government to them."