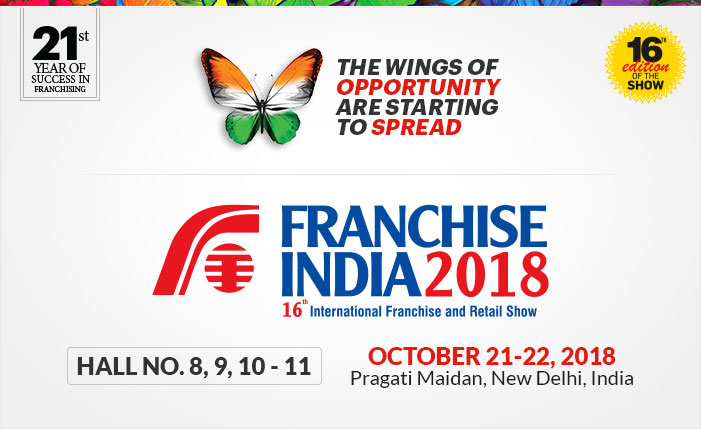 Franchise India hosts 16th Edition of International Franchise & Retail Show 2018
Ten News
New Delhi, October, 2018: Franchise India, Asia's largest franchising and Retail Solutions Company showcased the 16th Edition of its flagship annual property, Franchise India show 2018. The platform will be facilitating the buying and selling of franchise businesses for both global as well as domestic brands. The session will be launched with spotlight on foremost trends in the franchising industry and also building up the roadmap by evaluating ways to cutting edge strategies adopted by Global and Indian Corporates.
Distinguished speakers from various fields like F&B, Lifestyle, Education, Technology, Retail, Medicine reviewed and shared experiences of the significant growth prospects for franchising industry in their sectors. The show culminated with 'Top Most Honour Awards' in franchising industry. 100+ delegates along with 100+ Franchise & Entrepreneurs Experts at 3 Parallel Conference Tracks at International Franchise & Retail Show 2018 is commenced at Pragati Maidan.
The show witnessed presence of global leaders from various communities including celebrity chefs such a Pascal Tepper, French chef synonymous with French cuisines; UK's celebrated chef Shawn Kenworthy to name a few. Many new brands were brought in the country through the show such as UK's renowned tea chain, Chaiwala; Dubai's Donor & Gyros; London's Millies Cookies etc. World's largest Real Estate broking company RE/MAX India was also part of the show.
Franchise India, Chairman, Gaurav Marya said, "Every year FI comes up with the show for the people who wish to become an entrepreneur in Food & Beverage, Retail, Education, Consumer Services and Health, Beauty & Wellness sectors. Franchise India 2018 comes back with the same platform for brands to meet prospective franchise buyers and find new homes for their brand at diverse geographies. This will give a chance to commemorate  ' The Spirit of Saanjhedari'  that has been the basis of Indian business community and the same spirit that breathes life into a franchisee-franchisor's bonding for a continual and mutually rewarding growth of business. Last year we had successful show with about 400+ exhibitors, 40000 investors, 120 Global brands, 500+ delegates' participation and about 20 international and 60 national speakers. This year we have 500+ exhibitors, 150+ international brands, 50000 + visitors to making our show a grand success." 
He further added, "This growth of the franchise industry in India shows no signs of slowing down. The industry is growing at 30 -35 per cent year-on-year and is expected to reach USD 150 billion in the next five years from its current market size of 47 – 18 billion dollar. As for the franchisors and, the aspiring entrepreneurs also get a chance to meet and interact with different brands and make informed decision about buying a franchise."
Apart from 150+ international companies, there have been 500 domestic brands that displayed their offering. Some of the prominent ones were UClean laundry, DavaIndia (Generice by Zota Healthcare), many educational institutions such as Junior DPS, GD Goenka; technology companies such as Phonup, F&B companies like Chaiwala, Presotea, Tealive, Joybean were also there to name a few.