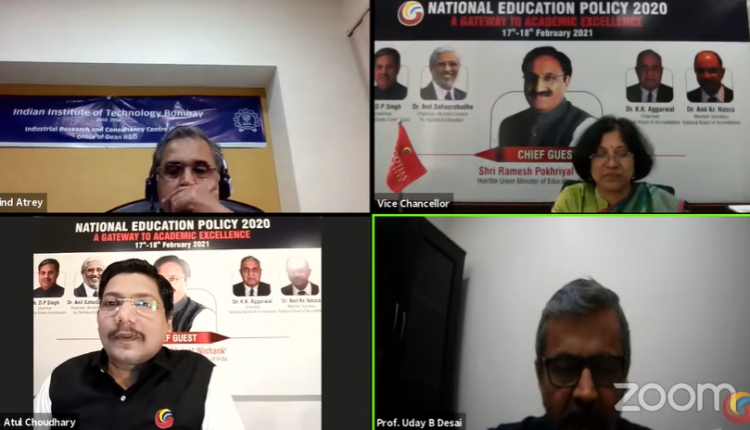 Galgotias University's National Seminar on NEP concludes, Top educationists share their ideas to boost Education & Research ecosystem
Greater Noida, 18th February: The two day National Seminar on NEP by Galgotias University concluded today with several education stalwarts sharing their ideas to boost the education and research ecosystem in the country.
On day 1 of the seminar, the University hosted the Union Education Minister Ramesh Pokriyal as a chief guest who lauded Galgotias University for its commitment towards becoming India's first Institute to implement NEP 2020.
Dr. K. K. Aggarwal, Chairman, National Board of Accreditations; Dr. Anil Sahasrabudhe, Chairman, All India Council for Technical Education; Dr. D P Singh, Chairman, University Grants Commission were some of the other eminent educationists who had joined the seminar on day 1.
While addressing the seminar on day 2, Dr. U B Desai, Ex Director, IIT Hyderabad spoke about creating a research ecosystem. He spoke about 4 quadrants. He also added that a challenging environment needs to be created which will help students in developing a questioning mind. "Jugad goes only a short way however that is the start of research."
The next speaker, Dr. Milind D. Atrey, Dean R&D, IIT-Bombay explained in detail about how to write a research proposal and the nitty gritty of a good research proposal. He highlighted that having a long research proposal is not important but specific research ideas with clear objectives is the need of the hour.
In his address, Dr. Ashok Jhunjhunwala (Padma Shri), Professor, IIT-Madras explained about the importance of Industry and Academia Sync and how this synergy will help both in developing better technologies, software etc. He also added that this will help in developing technologies which are relevant to India.
In his address, Dr. Raghunath Shevgaonkar, Former Director, IIT-Delhi emphasized on the importance of IQAC parameters. He said that the online education system needs to be made robust to keep the quality intact. He said that quality comes in every process in totality. 
In his address, Dr. Manpreet Singh Manna, Former Director, Swayam gave an insight into the benefits of online education. How people who have not completed their basic education or have discontinued their studies can take advantage of SWAYAM. He also added that 3.5 Crore courses will be added on the platform to help the platform grow. The courses will be available in all major regional languages. 
In his address, Dr. B. B. Ahuja, Director, College of Engineering, Pune spoke about the Future of Technology and Innovation. How an Engineer of the future must be. He said smart cloth, smart recharge and data privacy is the futuristic need. Future Engineers need to be equipped with multiple skills along with knowledge application.
Dr. Vinay Pathak, Vice Chancellor, Dr. A. P. J. Abdul Kalam Technical University, Lucknow in his address talked about the roadmap of NEP 2020 in Uttar Pradesh. He gave the guiding principle that local language should be used and there must be continuous review of the implementation done. 
The 2-day saga saw a huge participation of teachers, principals, heads of various universities and colleges, faculties, students and experts from the Industry as well. 
The program was chaired and convened by Dr. Preeti Bajaj, Vice Chancellor Galgotias University. Chancellor Suneel Galgotia was the Chief Patron and Dhruv Galgotia CEO and Aradhana Galgotia, Director Operations were the Co Patron for the event.