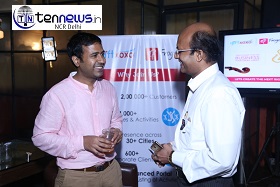 #Giftxoxo Organises 3rd Business Partners Meet – #Symphony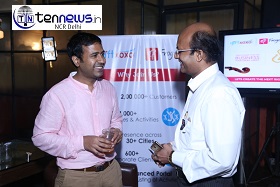 Giftxoxo Organises 3rd Business Partners Meet – Symphony
Delhi, July 18, 2016: The curated experience brands Giftxoxo and Frogo organized their 3rd Business Partner Meet – Symphony on 14th July, 2016 on a spectacular scale in Delhi. The purpose of organizing the meet was to provide a platform to partake in dialogs to enhance business goals calls for leveraging relationship with business partners in an effective way and synergising efforts with the brand and to reach and engage their target customers in a more effective manner.
The business partner meet saw over 30 participants from across Delhi & NCR and included prominent brands in the business like Adventure Island, Madover Vacations, Art of Hope and Fly Fighter planes, among others.
Symphony is an initiative by the organization to reach out to their business partners across the country, open up a channel of communication and interact with them to understand their perspectives on business and their expectations. The first 2 meetings were effectively conducted in Bangalore with resounding success.
Speaking on the relevance of the event, Manoj Agarwal, CEO and Co-Founder, Giftxoxo said, "Accomplishing enhanced business goals call for leveraging our relationship with our business partners in a better way and synergising our efforts with them, to reach and engage our target customers in a more effective manner. And Symphony is an initiative that would help us synergize our efforts with our business partners."
Business Partners Quote –
"We have just signed up to list our services on the Frogo app. We want to reach out to customers who are looking for unique experiences and we believe that the Frogo app will help us reach these people effectively", says Prateek Gupta, Director-Fly Fighter Planes.
Regarding the positive impact that Giftxoxo has had on his business, Kapil Dhameja, proprietor-Blue Terra Spa says, "Giftxoxo has helped us reach corporates and expand our customer base to a great extent."
The organization has planned a series of such business partner meets across the country in a bid to connect with all their service providers.
About Giftxoxo
GiftXoXo.com: The Company was founded in 2012 by Mr.SumitKhandelwal, Mr. Manoj Agarwal, Mr.Abhishek Kumar and Mr.Kushal Agrawal and has around 140 employees. The company's efforts have been directed towards providing unique, exclusive and personalized experiences to their customers. The company is one of the leaders in the field of Appreciation Management, Rewards & Recognition, Incentives and Employee Engagement through fabulous experiences from various categories including gourmet, adventure, tours & getaways, health & wellness, arts & learning and philanthropy. These experiences and activities can also be booked from the location based mobile app Frogo or gifted via the website Giftxoxo.com. The company has been successfully expanding its offerings and business for over 4 years and is headquartered in Bangalore with regional offices in New Delhi and Mumbai.
Request you to let us know your interest in doing an interaction with Mr. Manoj Agarwal, Co-Founder, Giftxoxo.