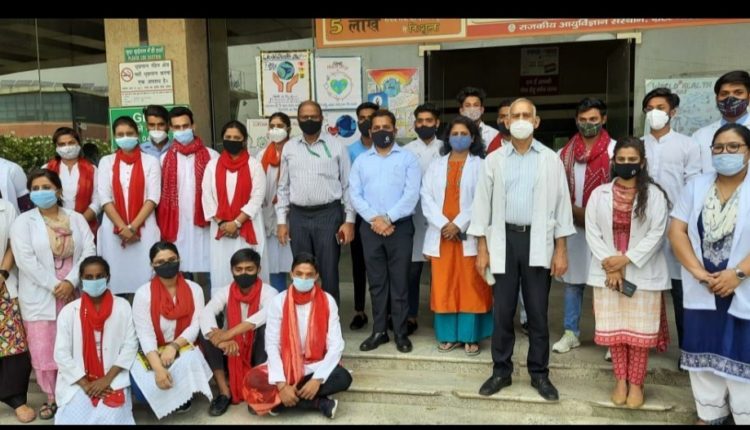 GIMS Greater Noida Celebrates World Health Day
April 7 of each year marks the celebration of World Health Day. And keeping up with it, Greater Noida's GIMS (Government Institute of Medical Sciences) organised an event, which was anything but 'healthy' given the present situation of a surging pandemic.
The theme of the World health day 2021 is Building a fairer, healthier world.
As per the institute, a virtual event was organised on Microsoft teams, however pictures prove that there were a lot many participants or organisers who openly flouted the social distancing norms.
"Event consisted of debate competition, panel discussion and poetry completion. Welcome address was given by Dr. Rambha Pathak, Dean, Prof & Head
Department Of Community Medicine, who introduced us with the theme," said a release from the institute.
But was an event necessary at a time when the country is battling second strong wave of Covid-19 and as many as 45 medical practitioners from KGMU, Lucknow have tested positive, despite a lot of them having taken the second dose of medicine on March 25.
In debate competition on the occasion students of the batch 2019 and 2020 actively participated. The title of the debate was "Private health care a boon or bane for health equity." But the question remains, was there much done to prevent a public health scare?
Panel discussion was also held on Health inequities- problems & solution.
"Dr. (Brigadier) Rakesh Gupta, Director GIMS spoke on Health equity – concept and its importance for an egalitarian society, Dr Rambha Pathak, Dean & HoD Community Medicine spoke on Health inequity, its dimensions and its origin/ causes & its relationship with public health, Dr Shivani Kalhan, HoD Pathology spoke on Gender dimensions of the health inequity & how to deal with it, Dr Satendra, HoD Surgery spoke on Surgical dimensions of health equity & how to deal with it, Dr Saurabh Srivatava, CMS GIMS spoke on Managing available resources at institutional level for health equity, Dr CD Tripathi HoD Pharmacology spoke on Challenges & Way forward to have a better and fairer world," the institute said in a statement.
Should such events be allowed or do they follow the WHO guidelines in terms of Covid-19 suitable protocols, is a question that remains unanswered.