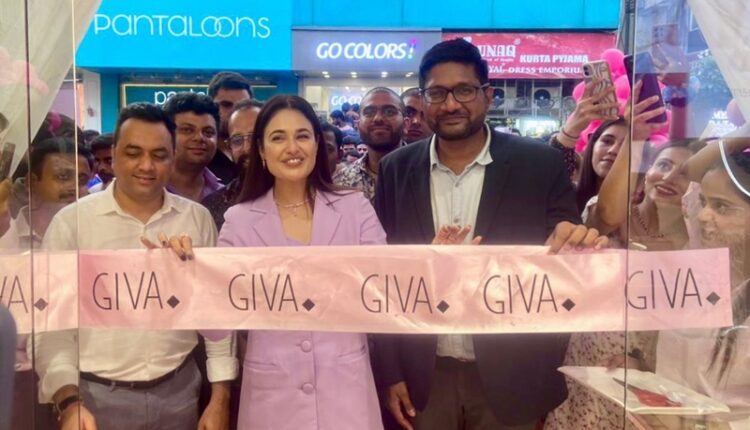 New Delhi (26/08/2023): GIVA, the renowned name in premium jewelry, proudly announced the grand opening of its new store in the heart of Karol Bagh, New Delhi. The inauguration ceremony was graced by the presence of esteemed actress Yuvika Chaudhary, who performed the ribbon-cutting honors, alongside Anirudh Kudva, the Vice President of Offline Stores at GIVA.
The event also featured Anirudh Kudva, GIVA's Vice President of Offline Stores, who was the spokesperson for the day. Anirudh had invaluable experience working for top-notch organizations like BCG – one of the world's finest consulting firms – and Tata Strategic Management Group. For the past year, he had been the driving force behind the exponential growth of GIVA's offline channel, showcasing his exceptional leadership and strategic skills.
GIVA is one of the fastest-growing D2C brands in India. Founded by Ishendra Agarwal, GIVA deals in authentic 925 fine silver jewellery and has recently forayed into 14K and 18k gold and lab-grown diamond jewellery.
Sharing his thoughts on this momentous occasion, Anirudh Kudva stated, "Though we had humble origins, today we've become a popular destination for purchasing fine silver jewellery across India. As they say – A big business starts small. This store is certainly a milestone, but there are many more to come in 2023. I want to express my gratitude to the entire GIVA team and every person associated with the brand. I look forward to building on our success in the years to come."
This exclusive GIVA store, to be located in 'Karol bagh' market the west of Delhi it is one of the most popular markets in Delhi., with this we will add up to 80+ stores across the country. Set right in the hustle and bustle of one of the top fashion streets in Delhi,You will find great deals and thousands of shopkeepers selling various items here. it is expected to cater to the urbane and fashion-conscious crowd in the city.
GIVA is a premium jewellery brand aiming to make authentic, elegant, and fine silver jewellery accessible in India. Since the start of 2019, GIVA has steadily grown to become one of India's leading silver jewellery brands. Headquartered in Bengaluru, GIVA recently launched its own line of affordable 14 & 18K gold jewellery collections and plans on expanding its lab-grown diamond collection.