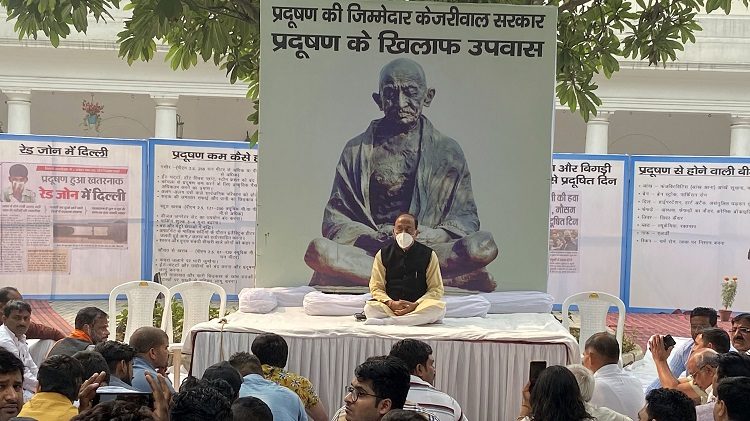 Goel demands Kejriwal to release white paper on Odd-Even
New Delhi, November 12, 2019: MP and former BJP Delhi President, Vijay Goel, said that Kejriwal government has not taken Odd-Even seriously and demanded that Kejriwal government should release a white paper to inform the people about the effectiveness of Odd-Even in reducing pollution levels.
Taking a jibe at Kejriwal, Goel said that on whom will Kejriwal shift the blame now? Even Kejriwal ji knows that odd-even does not have any impact on pollution levels. Therefore, instead of emotions and respect, Kejriwal ji has given Odd-Even exemption for two days. In actuality, Kejriwal government is not worried about pollution levels despite the air quality being hazardous.
Goel questioned Kejriwal government that whom will he blame now for pollution levels? Now, there is no stubble burning taking place neither Diwali is there. Goel said that despite Odd-Even, Delhi has become a gas chamber, whom will Kejriwal blame for this now?
Goel said that Kejriwal government slept on the issue of pollution in last five years and now just a few months before elections, they have rolled out the gimmick of Odd-Even to cause discomfort to common people.
Goel told that so far over 3000 people have been challaned for Odd-Even. This only means that people are facing inconvenience because of Odd-Even. Neither did Kejriwal government inform people about Odd-Even beforehand nor did it improve public transportation by procuring more buses. In fact, the strength of buses in Delhi reduced by 1000, Kejriwal government also hindered the implementation of Metro Phase IV and did not let the Central Government work. Kejriwal government has wasted crores on showing advertising his photos across the capital.
Goel told that Kejriwal is not treating the problem of pollution seriously. Even the Supreme Court rebuked Kejriwal government for this. Supreme Court had questioned Kejriwal Government about the effectiveness of Odd-Even and if any impact assessment was carried out by Kejriwal government for the same. Supreme Court had also asked the Delhi government to provide proof of reduction in pollution levels by Odd-Even.
Goel demanded that Kejriwal government should disclose the amount spent on 15 days of Odd-Even advertisements on radio, TV, SMS, Newspapers etc.
Goel demanded the following from Kejriwal government and asked for answers—
Kejriwal government should release white papers on Odd-Even;
Kejriwal should inform people how much Odd-Even benefited the people and how much it helped in reducing pollution levels, if any?
ii. If Odd-Even reduces pollution levels, then why is Delhi facing spike in pollution levels?
What all steps did Kejriwal government take in last five years to address the issue of pollution in Delhi?
How much has Kejriwal government wasted on advertisements of Odd-Even in newspapers, SMS, television, hoardings etc?