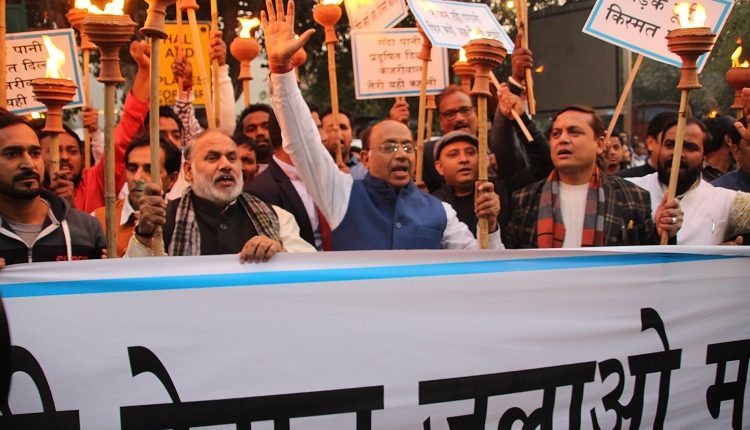 Goel leads torch procession under the slogan of 'Dilli Behal, Jalao Mashal'
New Delhi, December 7, 2019: Under the leadership of BJP MP and former BJP Delhi President, Vijay Goel, a torch procession was undertaken under the slogan of "Dilli Behaal, Jalao Mashal'". Hundreds of people raised the slogan of "Delhi Bachao, Kejriwal Hatao".
Goel said that now even stubble burning has stopped then why is level hazardous in Delhi. The Delhi government is the main culprit behind it for not reducing pollution levels caused due to Delhi's internal sources. Goel suggested that a Central Joint Committee should be formed in with a representative from Environment ministry, Urban Development Ministry, Delhi government, MCD, and other institutions. Pollution should be made a mass movement.  If Kejriwal government kept on politicising Pollution, it'll be impossible to live in Delhi.
Goel said that even today Delhiites are being forced to drink dirty water in Delhi. Delhi government is praising itself on samples collected by it and tested by it. It is itself the culprit, lawyer, and judge. Until people keep using air and water purifier, it will only mean that Delhi government has failed to deliver on its promises.
Goel said because of elections, Delhi government is not focusing on people's problems. Even Supreme Court has said that Delhi has become narak.
Goel said that Delhi is facing problem of pollution, dirty water, sewer, roads, transport, traffic, parking and what not.
Goel said that even on the ownership rights given by Central government to residents of Unauthorised colonies, Kejriwal is lying to people.
Standing committee chairperson Jay Prakash said that Kejriwal government is not releasing funds to MCD, and is not implementing central government schemes like Ayushman Bharat, PM AWAS Yojana. The state of their hospitals is pathetic. Delhi government doesn't have funds for MCD but is burning money on advertisements.