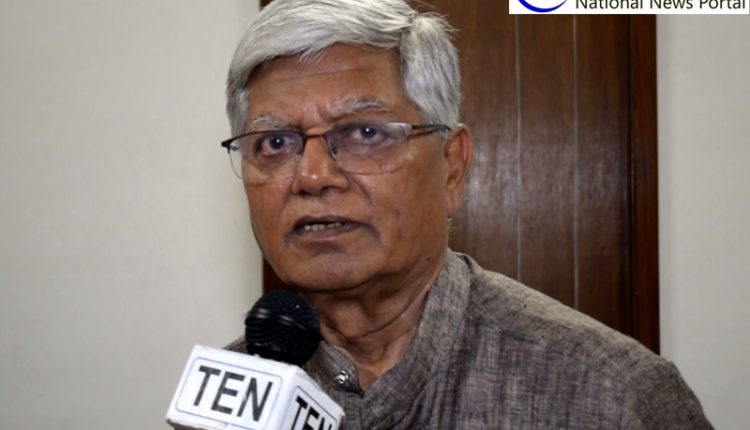 Government should full-fill demands of central government employees to avoid historic strike : NJCA Convener Shiv Gopal Mishra*
Ashish Kedia (Photo/Video By Lokesh Goswami Ten News Delhi )
National Joint Council of Action of Central Government Employees has conducted a significant meeting on 3rd July in Delhi. NJCA members expressed its displeasure over the alleged mistreatment of central government employees by the government. The organization alleges that central government has not fulfilled its promises made two years back and the discontent is growing exponentially among employees.

Ten News spoke to NJCA Convener and AIRF General Secretary Shiv Gopal Mishra on the issue to more details and learn about the future course of action.
Here are the excerpts of the conversation :
Ten News : What was the agenda of NJCA meeting conducted on 3rd July?
S G Mishra : The agenda was that on 30th June 2016 we had a meeting with group of ministers led by Home Minister Rajnath Singh. After a prolonged discussion they promised that they will setup some committees and will resolve major issues of central government employees such as New Pension System, minimum wages, the allowances etc but unfortunately in-spite of promises that it will be resolved in 6 months it hasn't resolved up-till now. Hence the government employees are in anguish and they feel that now time has come that we should again revive the differed indefinite strike. The final decision regarding the same will be taken later.
What are your key demands that you except government to fulfill by 7th August deadline ?
Our demands are very limited. We simply want that pour employees those who have been recruited after 1st January 20114, they should be given an assurance by the government that they will get at-least fifty percent of the pension. We also want that our minimum wage must be increased. The other issue is that formula of the option number 1 which was proposed in pay commission report, it must be restored so that interested people can opt for it.
NJCA has also alleged that central government is mistreating the employees. What is the reason behind such strong assertions?
One thing which is pinching the government employees is that after 8 years NJCA national council meeting has not been done. We have met Arun Jaitely, Home Minister, Piyush Goyal ji everyone sympathizes with our demands but no-one exactly sets up a time frame for fulfilling these demands. Now question of meetings and discussions is not sufficient but whatever government has to offer must come out.
NJCA has also demanded that 'Very Good' criteria for promotion must be abolished. What is the basic problem with it?
Pay commission and other similar machinery are simply harassing hard working employees under this 'Very Good' criteria pretext. Railway employees for example work day and night and in very harsh weather condition but saying that they wont get promotion without having a 'very good' criteria is not fair.
What is going to be the future course of action?
NJCA has directed me that being convener I should write a letter to GOI through secretary. Resolution has been passed where we have made it clear that we have waited very patiently to avoid any inconvenience to public and government. We don't want to create any problem for people and economy of the country. Our demands are very specific and justified and they should be met.