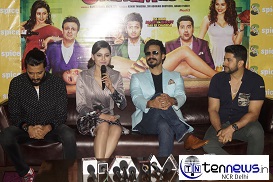 'GREAT GRAND MASTI' PROMOTIONS IN NOIDA!!
'GREAT GRAND MASTI' PROMOTIONS IN NOIDA!!
Spice Cinemas witnessed the 'Great Grand Masti' when the starcast of the film came for the promotions in Noida.
The trio Vivek Oberoi, Riteish Deshmukh and Aftab Shivdasani came together for the first time in 2004 in the film Masti and since then the legacy is followed by these three witty actors, who had made us laugh in the sequel 'Grand Masti' and are coming back to tickle our funny bone in 'Great Grand Masti' again.
Great Grand Masti is the third installmen
_DSC6691.JPG
_DSC6701.JPG
_DSC6718.JPG
_DSC6756.JPG
_DSC6767.JPG
_DSC6779.JPG
t of the franchise 'Masti' directed by Indra Kumar. Apart from Pooja Bose, Mishti and Shradha Das playing the wives of these three, the film will also see Urvashi Rautela as a flirtatious ghost.
Riteish Deshmukh who had worked with director Indra Kumar in five films called their relationship as that of an elder and younger brother.
Talking about the film, he said "This is the most funniest films from all the films that I have done. It is a horror comedy that we have explored in this third instalment, making it the first of its kind in Bollywood"
The actors had so much fun at the conference and couldn't stop pulling Urvashi's legs. They revealed that Urvashi is a Pout girl and the whole media burst into laughter when they called her 'Urvashi Poutela'.
"This time we have tried to make it more family oriented. So we won't call it an adult comedy but a naughty comedy would be right word for Great Grand Masti" said Aftab Shivdasani, whose ideas always lands these friends in trouble and this time they stuck to a haunted house where they meet hot and gorgeous Urvashi Rautela.
Urvashi Rautela who shot to the fame shaking legs with Yo Yo Honey Singh in the song 'Love Dose' is just 2 films old but isn't afraid of taking challenges. talking about her character she said "I am playing a virgin ghost in the film who is a 'Pyaasi Chudail' "
Praising about her, Vivek Oberoi said "It takes guts for an actress to do a role like this specially when it is the start of her career"
Directed under the banner of Balaji Motion Pictures, the adventures in the lives of Amar, Meet and Prem will be revealed on 15th July.