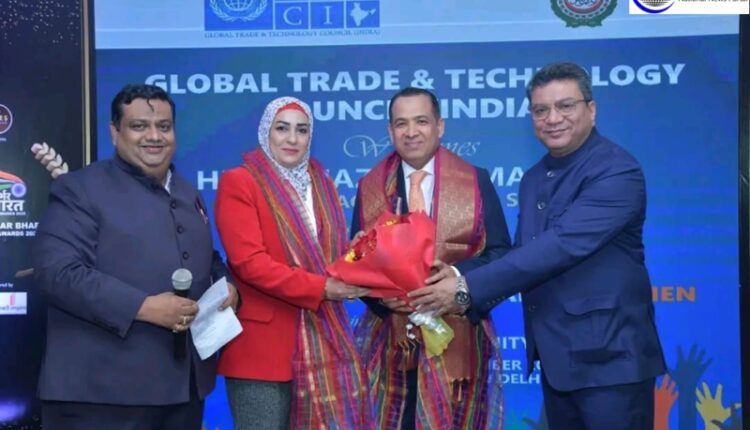 New Delhi (27/11/2022): GTTCI had organised an exclusive welcoming ceremony of Dr. Mazin Al- Masoudi, CDA-Arab league during its event to celebrate UN Day for the elimination of violence against women on 26th Nov 2022 held at The Park, hotel New Delhi.
Addressing the august gathering, Dr. Mazin Al-Masoodi said, "Economic cooperation with India will facilitate various opportunities for partnership for two nations." He further heaped praises on the efforts taken up to foster ties between India and the Arab countries.
Dr. Gaurav Gupta, Chairman of the GTTCI, said, "On the occasion of the UN Day for Elimination of Violence against Women, we were honoured by the presence of Dr. Mazin Al-Masoudi, the CDA of the League of Arab States. The deputy ambassadors of many countries including Malawi, Serbia, Gambia and Libya, among others were also present." He further added, "The Global Trade & Technology Council of India aims to improve the business relationships between India and Arab countries." He also thanked everyone for their presence which led to the success of the event and hoped for similarly successful activities in the future.
Dr. Kanchan Singh, Director of Marketing at Global Trade and Tech Council, stated, "Unprecedented momentum and awareness in preventing violence against women have been achieved as a result of grassroots activists, women's human rights defender, and survivor's advocates worldwide." She added, "Violence against women and girls is a human rights violation and their immediate physical, mental, and long-term consequences can be devastating. Activism to prevent violence against women and girls – this campaign aims to prevent and eliminate violence against women and girls across the nation worldwide calling for global action to increase awareness, promote advocacy, and great opportunities on discussion of challenges and solutions."
Ms. Zakia Khan, the founder of "Hamdard the Helping Hand", addressed the challenges faced by women. She said, "Women are constantly held back by obstacles from the family, the society, and people around us..When women go out, they shouldn't be worried about their safety. This is what the world needs to work on." Speaking on her NGO's achievements, she said that they have successfully rescued 40+ women over the past 18 years. "We have also rescued minor boys and girls during the course of our work."
Dr. Masoudi was welcomed and facilitated for his new position by GTTCI Founder President Dr. Gaurav Gupta and Mr. K L Malhotra (Indo- Arab Friendship Association). Dr. Masoudi's welcoming ceremony was graced by other eminent dignitaries namely Mr. Lazar Y Vukadinovic (CMB Serbia ), K. L. Ganju (Consul General of Comros), Mrs. Aji Fatoumatta Joof, (First Secretary to The Gambia High Commission), Ms. Carolina Namaoma & Grace Chupa from Embassy of Malawi & Ms. Seham Elamami from embassy of Libya.
Padmashree Soma Chatterjee , Major General Dilawar Singh, Shankar Goenka and Dr B L Chowdhury , Director, DD Upadhay Hospital were also present as a special guest
GTTCI made serious attempt towards highlighting the importance of UN Day for elimination of violence against girls and women in focus! Ongoing violence act against young girls and women, exploded and sparked global mobilization creating a moment of urgency in preventing and responding to violence against them.
GTTCI members – Adv. Rajiv Tuli, Parmeet Singh Chaddha, Archana Gaur, Payal Kansal , Sachin Yadav , Sunehri Lal Tank and Gajanan Mali were there to grace the occasion.
TEN NEWS NETWORK was the online media partner for the event . Ms. Priyanka Sachdeva & Dr. Shaista Aayub Khan were gift sponsors & came up with specially curated goodies of their respective brands for the Dignitaries present in this evening.
UN DAY Celebrations by Global Trade & Technology Council (India) | Photo Highlights
UN DAY Celebrations by Global Trade & Technology Council (India) | Video Highlights