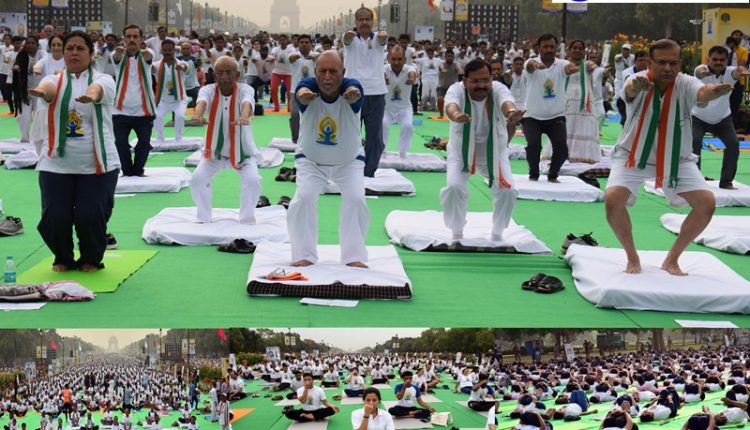 Harsh Vardhan, Anil Baijal and Meenakshi Lekhi attend International Yoga Day Celebrations at Rajpath, Kejriwal gives a miss!
Prerit Chauhan (Photo/Video) By Lokesh Goswami Ten News Delhi :
New Delhi: International Day of Yoga, or commonly and unofficially referred to as Yoga Day, is celebrated annually on 21 june since it's inception in 2015. The world is marking the fourth edition of the International Yoga Day (IYD) 2018 on Thursday.
In New Delhi, eight events were organized for the celebrations of International Yoga Day 2018 with the main event held in Rajpath. Apart from Rajpath, Nehru Park, Lodhi Garden, Pandara Road Park and Talkatora Garden where international yoga day was celebrated.
Around 15,000 plus participants participated at Rajpath including, VIPs, Art of Living, Patanjali Yoga Samiti, Vivekananda Yogashram hospital, Brahmakumari, Isha Foundation, Gayatri Parivar, Delhi Police, CISF, doctors, government officials and general public, an NDMC official.

Two big screens were set up at Rajpath to beam live telecast of Yoga Day celebrations in Dehradun the capital of Uttarakhand, where Prime Minister Narendra Modi's celebrated Yoga Day.
The sessions started at 6 a.m. and the hour-long event was preceded by several cultural performances, like, Synchronise Asana Demonstration, Malkhamb Yoga, Women Self-defence performance by CISF.
The yoga event at Rajpath was attended by Union Minister Harsh Vardhan, Delhi L-G Anil Baijal and New Delhi parliamentarian Meenakshi Lekhi.
Union Minister Harsh Vardhan was the chief guest while MP Meenakshi Lekhi
was the special guest.
Delhi Chief Minister Arvind Kejriwal, who is unwell after 9-day dharna at LG House, didn't participated in International Yoga Day 2018 celebrations at Rajpath.
Ten News Caught up with the people, to know about their experience at Yoga International Day 2018. Speaking to Ten News, Enthusiasts said, "Well it's a great experience to be a part of International Yoga Day Celebrations. It's a great representation of unity. Yoga helps for improving balance, lowering blood pressure, increasing flexibility, and providing a sense of calm. we regularly practice pranyam and asanas, we can minimise illness around us. Yoga plays an important role in promoting health. We urge all the people in the nation to practice yoga and those too who have never tried it"
When Asked about how proud they feel about Yoga day is being celebrated around the world, They collectively said, "It is so heart warming to see Prime Minister of our country leading by example. We are really proud of it. Yoga Day has become one of the biggest mass movements in the quest for good health and well being all over the world."