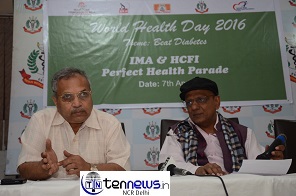 #Heart Care Foundation of India & Indian Medical Association to organize the Perfect Health Parade on occasion of World Health Day
Heart Care Foundation of India & Indian Medical Association to organize the Perfect Health Parade on occasion of World Health Day
New Delhi, April 6, 2016: Reinforcing their commitment to raising health preventive awareness in the country, the Indian Medical Association and Heart Care Foundation of India will flag off the Perfect Health Parade tomorrow.
Speaking at a press conference today, Padma Shri Awardee Dr KK Aggarwal – Honorary Secretary General IMA and President HCFI & Dr Vinay Aggarwal, Past President IMA said, "The Perfect Health Parade is a flagship yearly event of HCFI that we have been organizing since over two decades with the purpose of educating the public about the necessity of making timely lifestyle modifications to help prevent life-threatening diseases such as diabetes, heart disease, hypertension and dyslipidemia. In addition to this, our endeavor has also been raise awareness about the importance of sanitation and cleanliness in the prevention of diseases such as gastroenteritis, malaria, dengue and diarrhea. All these conditions are preventable and raising awareness is key".
The Perfect Health Parade will witness over 20 tableaus carrying health messages passing through key areas such as Rajghat, Pragati Maidan, Ashram, Kotla, South Extension, Defence Colony, AIIMS, Green Park, IIT Gate, RK Puram, Dwarka, Rohini, Pritampura, Yamuna Bridge amongst others. A total of 50 locations will be covered.
The parade will be flagged off by Dr KK Aggarwal, Dr Vinay Aggarwal – Past President IMA and Dr JP Kapoor – Director, Family Welfare, Govt. of Delhi at 9am outside the Indian Medical Association National Branch at ITO on April 7th, 2016.
Some of the key health messages, which will be displayed on the tabloids, will include:
Eat less, not more than 80 g/80 mL of caloric food in one meal
Keep your BP, fasting sugar, abdominal circumference, resting heart rate and bad LDL cholesterol levels all <80
Walk 80 minutes a day; brisk walk 80 minute s a week with a speed of at least 80 steps per minute
Do not eat refined cereals 80 day in a year
Expose yourself to sunlight at least 80 days in a year