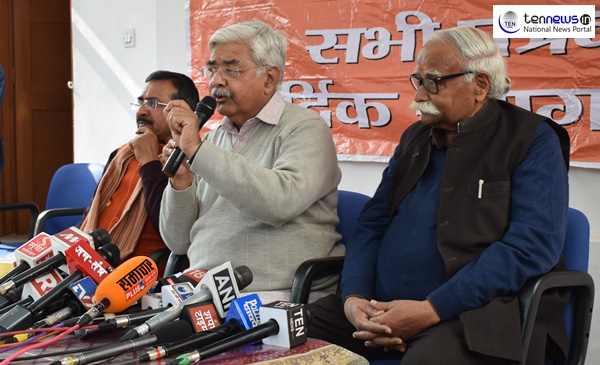 New Delhi: (02/01/19) VHP Advocate and Working President, Alok Kumar on Wednesday said, they will continue their campaign for a legislation for the construction of a Ram Temple in Ayodhya. "Hindu Society cannot be made to wait till eternity", said VHP Leader.
Addressing the Media today he said,
"The Ramjanmabhumi matter has been pending before the Courts for 69 years. The appeals are pendlng in the Supreme Court from 2011.It has been a long wait
The matter had come up on 29th of October 2018, However, by that time the appropriate bench to consider It was not constituted. Therefore it was listed before the Court prestded by Hon'ble Chief Justice of India."
He further said, "The plea of early hearing was not accepted The matter was adjourned to come up in the first week of January, 2019 for fixing a date of hearing before the appropriate bench.The appropriate bench has not been constituted. The formalities in some appeals are yet pending. The hearing may yet be far away."
"VHP considering the overall situation. continues to be of the firm view that the Hindu Society cannot be expected to wait till eternity for a Court decision. The only appropriate way forward Is to enact a legislation clearing the way for the constructlon of a Grand Temple at the Ramjanmabhumi now," He said.
"The VHP shall continue its campaign to achieve this demand. Further steps in the matter shall be decided by the Saints at the Dharm Sansad on 31st January 2019 during Kumbh at Prayagraj." added Kumar.