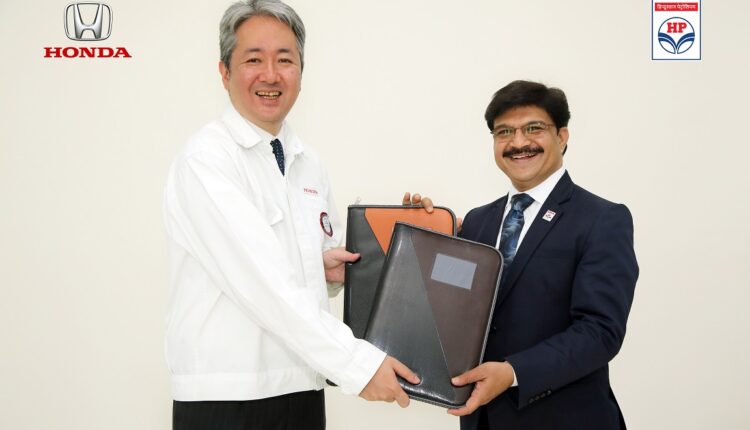 Honda Cars India joins hands with Hindustan Petroleum Corporation to offer exciting benefits to its customers

New Delhi, 31st August 2023 – Honda Cars India Ltd. (HCIL), a leading manufacturer of premium cars in India, has partnered with Hindustan Petroleum Corporation Ltd (HPCL), a Govt. of India Maharatna Energy Company, to introduce fuel reward loyalty program exclusively for Honda Connect application users.
Honda Connect is an intelligent and advanced connected car technology platform provided by HCIL to its customers, which provides various features like car location, car health status, trip details, book services, mileage information, important alerts etc.
HP Pay, HPCL's payment App with convenience & benefits is providing a secure, contactless, and streamlined digital payment & loyalty solution for the mobility and energy needs of customers.
Under this partnership, Honda's customers can seamlessly enrol for "HP Pay" application through "Fuel Pay" option in Honda Connect app and avail benefits, conveniences and enjoy additional 25% fuel reward points on their motor fuel purchase at HPCL fuel stations over and above the HP Pay reward points. Customers are only required to provide their registered mobile number at the fuel station during refuelling for earning the loyalty points. The accumulated loyalty points can then be redeemed into Wallet Balance or converted to Paycode i.e., a unique number which can be shared at HPCL fuel stations for fuel purchase. This new feature will be available on Honda Connect application from 4th September 2023.
Mr Yuichi Murata, Director, Marketing & Sales at Honda Cars India, said "Our focus at Honda Cars India is to not only provide our customers with top-quality products but also offer a range of value-added services and ownership experiences. This partnership with Hindustan Petroleum Corporation Ltd. is a significant step toward enhancing the value we provide to our customers through Honda Connect. This collaboration not only ensures a rewarding refuelling experience but also aligns with our focus on delivering convenience and benefits to every Honda car owner."
Mr. Amit Garg, Director-Marketing, Hindustan Petroleum Corporation Ltd, conveyed, "At Hindustan Petroleum Corporation Limited, we are committed to consistently provide customer-centric, engaging, and innovative propositions that cater to the evolving needs of our customers. Through this partnership, our objective is to offer a seamless solution to customers, enabling them to locate HPCL retail outlets, enhance their fuelling experience with efficiency, provide secure digital payment and avail host of rewards and benefits. We are excited to collaborate with Honda Cars India to provide enhanced offerings to Honda customers in line with our motto of "Delivering Happiness".
Honda Connect has been developed keeping in mind customer's lifestyle and their growing interaction with advanced technology, offering instant and seamless communication between the customer, car, their family, and Honda. Honda Connect App comes with 37 connected features which offers a safer ownership experience, convenience, and peace of mind to customers.