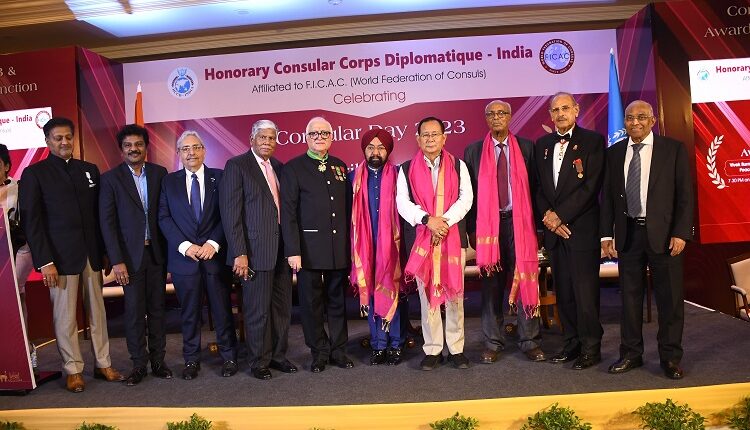 Honorary Consular Corps Diplomatique-India hosts an evening to commemorate Consular Day
TEN NEWS NETWORK
Honorary Consular Corps Diplomatique-India on Friday hosted an evening to commemorate Consular Day in New Delhi.

The gathering witnessed the momentous felicitation of "Vivek Burman (Dabur) Peace Prize"  bestowed to Padma Shri Jitender Singh Shunty, and Suresh Chukkapalli, Hony. Consul General of South Korea
On the occasion, K.L Ganju said that the Hony. Consuls in India are playing a pivotal role in delivering consular services and also flourishing economic and bilateral relations between the sending and the receiving countries.
The Chief Guest for the event was Dr. Rajkumar Ranjan Singh, Minister of state for Ministry of Education and Ministry of  External Affairs, Alem Tsehaye Woldemariam, High Commissioner of Eritrea and Dean of the diplomatique corp and Excellency Vikramjit Singh Sahney, Padma Shri Member (Rajya Sabha)were the Guest of Honour.
MoS for External Affairs, Rakesh Kumar Ranjan, praised the contributions of the Honorary Consular Corps and acknowledged their critical role in enhancing bilateral connections. He highlighted the significant growth of honorary councils in India, which now operate in all corners of the country, signaling that India is open for business, and every region is interconnected. Ranjan emphasized that India's foreign policy is flourishing under the leadership of Prime Minister Narendra Modi, and the nation is intensifying its political engagement with Africa and strengthening its neighborhood and security in all regions.
The eminent guests who graced the occasion with their presence included V.K. Duggal, Former Governor, Vivek Burman, Hony.Consul General of Nicaragua, Chairman Emeritus Dabur India Ltd, International Dance Maestro, Padma Shri Ms. Shovna Narayan, International Dance Guru, Padma vibhushan Dr. Sonal Mansingh.
Ambassadors, High Commissioners and Hony. Consuls from all over India participated. Officials of the Ministry of External Affairs and who's of Delhi also joined to celebrate.