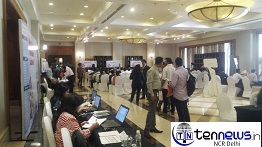 IDP Education will organized Study Abroad Education Fair – UK, USA, Canada and New Zealand universities met students in New Delhi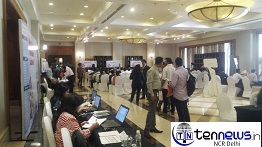 IDP Education will organized Study Abroad Education Fair – UK, USA, Canada and New Zealand universities met students in New Delhi
Total 52 leading universities and institutions from UK, USA, Canada & New Zealand to assembled under one roof to help Indian students seeking admissions and provided counseling
13 Feb 2016: IDP Education India, the leading student placement service provider organized IDP's UK, USA, Canada & New Zealand Education Fair in New Delhi on Saturday, 13th February 2016 at Le-Meridien Hotel from 11am to 5pm for students aspiring to pursue higher education abroad. IDP Education Fair in New Delhi had representatives & faculties from Canada, New Zealand, the UK and USA who came together to meet Indian students aspiring to study in their countries.
IDP Education will be hosting the IDP's UK, USA, Canada & New Zealand Education Fair in India across 14 cities from 9th Feb 2016. Spread over a period of two weeks, the fair will kick-start from Kolkata & Ludhiana and conclude in the southern city of Coimbatore on 23rd Feb 2016. The fair will see over 85 universities and colleges from the UK, U.S, Canada & New Zealand interact with Indian students aspiring to pursue higher education in internationally acclaimed institutions.
IDP's Education Fair will offer students the opportunity to explore various study options available across four countries. The fair will be held in the cities of Kolkata, Ludhiana, Chandigarh, Gurgaon, Mumbai, Ahmedabad, Pune, Bangalore, Vijayawada, Hyderabad, Chennai, Kochi & Coimbatore in addition to New Delhi.
Applications are open to over 150 leading IDP partner universities & institutions in the UK, U.S, New Zealand and Canada for 2016 intakes for courses such as Business Management & Finance, Hospitality, IT, Engineering & Computer Science, Pharmacy, Biological Sciences, Public & Health Administration, Law, Medicine & Nursing, Art & Design, Mass Communication and many more. Students can apply to the universities of their choice and get detailed information on scholarships, ranking, visa, etc. by IDP's experienced education experts
Mr. Harmeet Pental, Regional Director (South Asia, North America & UK), IDP Education, said, "IDP Education is world's leading student placement service provider and organizes education fairs across the IDP global network. With over 200 university partners across the 5 major global destinations, IDP is best placed to offer students the choice to find the course best suited to them. With an experience of over 45 years, IDP places one student every 20 minutes across the globe and has placed over 400,000 students worldwide.
Mr. Piyush Kumar, Country Director, India – IDP Education said, "IDP India seeks to provide a platform to aspiring students to come and have a face-to-face interaction with the university representatives and get answers to all their queries related to studying abroad. One can also visit IDP office to pre-register for priority processing and detailed counseling with IDP's well trained and experience destination counselors.
Our goal is to assist and guide the students & parents with the right advice through all the steps from initial exploratory stage of course and university selection to application submission to arrival on campus", added Mr. Kumar.
IDP fair endeavors to help students make their dream of an education abroad come true. Students are advised to bring along their educational certificates in original along with photocopies.
IDP's UK, USA, Canada & New Zealand Education Fair– UK, USA, Canada and New Zealand in New Delhi provided an opportunity to have one-on-one interactions with 11 Canadian institutions, 11 New Zealand institutions, 19 UK and 11 USA, institutions mentioned below:
Institutions from Canada Institutions from New Zealand Institutions from UK Institutions from USA
Algonquin College ACG Group Anglia Ruskin University
Cleveland State University
Centennial College Auckland University of Technology Birmingham City University
Colorado State University
Camosun College Le Cordon Bleu Bath Spa University
Green River Valley Community College
Conestoga College Lincoln University Coventry University
Kent State University
Durham College Massey University De Montfort University
Old Dominion University
Fanshawe College Ntec New Zealand Loughborough University
Shorelight
Georgian College Southern Institute of Technology Leeds Beckett University
St. Johns University
Navitas – FIC & ICM University of Canterbury Manchester Metropolitan University
University of Nevada, Reno
Saskatchewan Polytechnic University of Waikato Oxford Brookes University
University of Missouri – St Louis
Thompson Rivers University University of Auckland Plymouth University
Western New England University
University of Saskatchewan Victoria University of Wellington Queen Mary University of London
Western Michigan University
Queen's University Belfast
University of Reading
University of Nottingham
University of Central Lancashire
University of Strathclyde
University of Surrey
University of Sussex
University of Birmingham
About IDP India
IDP Education Limited is an ASX listed company that is 50% owned by 38 Australian universities. For more than 45 years, IDP has played a major role in international education by offering comprehensive counseling services to students & having placed more than 400,000 students into quality institutions in Australia, the United Kingdom, the United States of America, Canada and New Zealand.
Currently, IDP in India has counseling centers in 17 cities guiding students and their families through the entire process from university/course selection through application/visa process and pre-departure planning. For more than 45 years, IDP has been helping students and their families find the right fit for their dream of higher education
IELTS
IDP is a proud co-owner of IELTS (International English Language Testing System). IELTS is jointly owned by British Council, IDP: IELTS Australia and Cambridge English Language Assessment. Since its launch in 1989, IELTS has become the world's most popular high-stakes English language proficiency test. Over 9,000 organizations worldwide accept IELTS as evidence of English language proficiency. Last year more than 2.5 million tests were taken globally. IDP Education offers the IELTS test in more than 400 test locations in 50 countries.
For more information or a live chat with an IDP counselor, visit www.idp.com/india