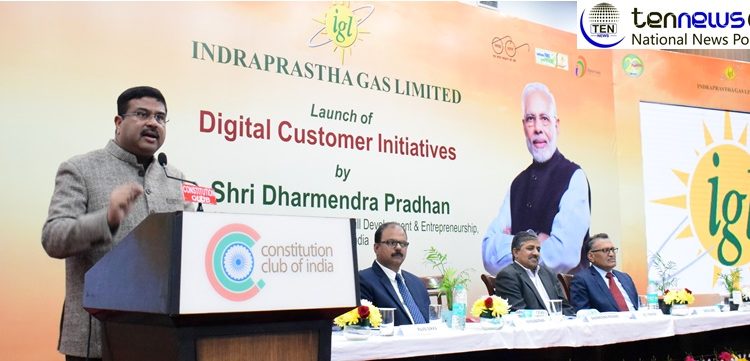 IGL's 20th anniversary : Petroleum Minister Dharmendra Pradhan introduces various Digital Custom initiatives
Vishal Malhotra (Photo/Video) By Lokesh Goswami Ten News Delhi :
New Delhi : Reinforcing its commitment to leveraging technology to enhance customer experience for its CNG as well as PNG customer Indraprastha Gas Limited (IGL), the largest CNG distribution company of the country will be marking its 20th anniversary by introducing various Digital Custom initiatives. The new initiatives are being launched by Dharmendra Pradhan, Union Minister for Petroleum & Natural Gas, Skill Development & Entrepreneurshi today in Constitution Club of India.

Realising the importance of time for its CNG customers, IGL is introducing CNG Queue Management System (QMS) through OORJA mobile application, which would provide information regarding the average waiting time at CNG stations and alternate nearby CNG stations to them.
For the purpose of providing information through this app, the CNG customers would know the waiting time for three broad categories, i.e. Buses, Cars and Autos. The customers shall be able to see CNG stations nearby and the waiting time for three categories of vehicles. This QMS application would be available through invitation initially for ten days and would be available for download on Google Play Store from 1st January 2019.
Minister Dharmendra Pradhan while adressing the ceremony said,
"When we started handling CNG works in India, IGL was always praised for its performances. We used to receive calls from many of the important personalities who were sometimes journalist and sometimes were important people from political background as well who always praised for the services provided by IGL. Previously, people had to run for years in order to get a connection of IGL and now that efforts of years is transformed into just a matter of weeks. I congratulate IGL for reaching 1 million users in the NCR."