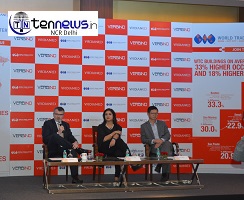 India has bright trade opportunities: Ferguson, CEO, World Trade Centers Association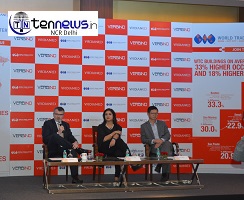 India has bright trade opportunities: Ferguson, CEO, World Trade Centers Association
New Delhi: 08-08-2016 "The trade and investment opportunities will only grow in India with the recent changes in government policies", saidMr. Scott Ferguson, CEO, World Trade Centers Association on Sunday.
Mr. Ferguson, who is on three-day visit to the city, met key partners Verbind and Viridian RED and visited World Trade Centre NOIDA. While addressing the media at the Lalit Hotel he said, "I congratulate WTC NOIDA for becoming the first operational facility in north India, delivering its first two towers which are completely leased and hope to see great results for the next phase as well. Viridian group is our main partner in India. "
While addressing the business community later in the day, he further added 'By being a business member/tenant/client here at WTC NOIDA facility, one gains access to introductions and connections in cities around the world. The facility acts as a Gateway for local business and provides them services through hub and spoke model of connected complexes.'
Mr. Ferguson also expressed his delight about the legislation brought by the Government for Real Estate sector and further added "Real Estate globally is seen as a key driver of economic growth and needs to be seen as beyond an asset class, he congratulated Viridian RED on being one of the pioneer who is bringing this change through breakthrough concepts and connected ecosystems.
Scott Wang, Vice-President, Asia Pacific, WTCA said that India is the fastest growing market for World Trade Centres as the number of WTCs in India has risen from a mere 5 in 2011 to 26 in 2016.
Ms. Khair Ull Nissa, Executive Director, Verbind who was present at the press conference said, "We are delighted to take forward our association with WTCA to another level, Viridian RED will continue to create landmarks across the nation."
We feel proud in saying that we are very active partner of WTCA in India with 13 licenses to develop WTC across India. Out of these  – WTC Noida (two towers) completed, leased and operational, WTC GIFT City & WTC Chandigarh are under construction.
About World Trade Center Association:
The World Trade Center's Association stimulates trade and investment opportunities for commercial property developers, economic development agencies, and businesses looking to connect globally and prosper locally.
The exclusive 'World Trade Center' &'WTC' branded properties and trade service organizations are located in 90 countries and supported by 15,000 WTC professionals that deliver integrated, reciprocal resources to meet business needs.
 About Viridian RED:
Viridian RED is widely recognized as a catalyst and for its leadership position in the real estate landscape. With a vision to deliver innovative and quality real estate solutions in India, Viridian Real Estate Development was established as a vital part of Viridian's integrated development platform, comprising of investments, development and asset management functions.
Viridian RED is further setting new benchmarks by taking the immense potential of the World Trade Center to all of India. The company has already identified important centers of commerce that will be key drivers for growth and has planned a strategic roadmap for a comprehensive rollout of WTC's across India and ASEAN.