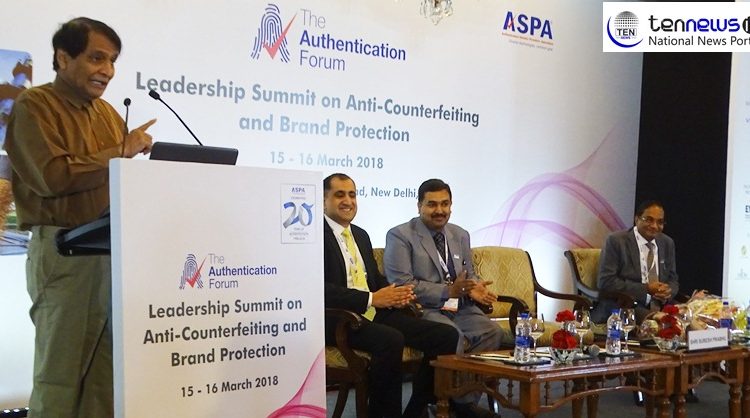 (15/03/18) New Delhi: Most successful brands today are plagued world over by forgery, falsification, counterfeiting, tampering or product diversion, which leads to substantial financial losses and the concept is more robust and prevailing in India as compared to many other countries.
To addresses growing concerns on counterfeiting and solutions to eradicate this menace with industry leaders and government officials, two-day event, International Leadership Summit on Anti-Counterfeiting and Brand Protection 'The authentication forum 2018' kick started in Delhi today.
The second edition of the Authentication forum is being organised by Authentication Solutions Providers Association (ASPA) which was inaugurated by Union Minister, Ministry of Commerce & Industry & Civil Aviation, Suresh Prabhu
.
While addressing the forum, Union Minister, Ministry of Commerce & Industry & Civil Aviation, Suresh Prabhu said, "New world is going to be driven by knowledge and ideas and it is a very important event in which the government and the industry come on a platform to create not only a brand for a corporate entity but creating 'Brand India'.
And to make Brand India a clearly acceptable brand we must first of all protect the Intellectual Property Rights (IPR) because those countries, companies, even Indian companies that are going to invest huge amount of money into brand building, creating new rights in form of patents in form of copyrights or new product development or molecule development of a pharmaceutical company all of them would need a protection of IPR," he said adding that if Indian brands want to become global then we must also be able to respect global brands in India".
During the summit, the experts agreed that India has huge lack of enforcement agencies, trained officer, hi-tech labs. Moreover, India is the hub of fake products and adulteration in foods, spices, drugs, alcohol is robust and constantly growing its area. If it not tackled now, the situation may turn ugly.
Besides, Union Minister, Ministry of Commerce & Industry & Civil Aviation, Suresh Prabhu and eminent dignities including Registrar General, Protection of Plant Varieties and Farmers Right Authority, Ministry of Agriculture & Farmers Welfare, RC Agrawal, Commissioner, Central Board of Excise & Customs, SP Sahu, Scientific Advisor to Minister, Ministry of Agriculture & Farmer Welfare, SK Singh, Senior Chair – FICCI (CASCADE) & VP – Corporate Affairs, ITC Ltd. Anil Rajput and UK Gupta, President, ASPA participated in the summit.