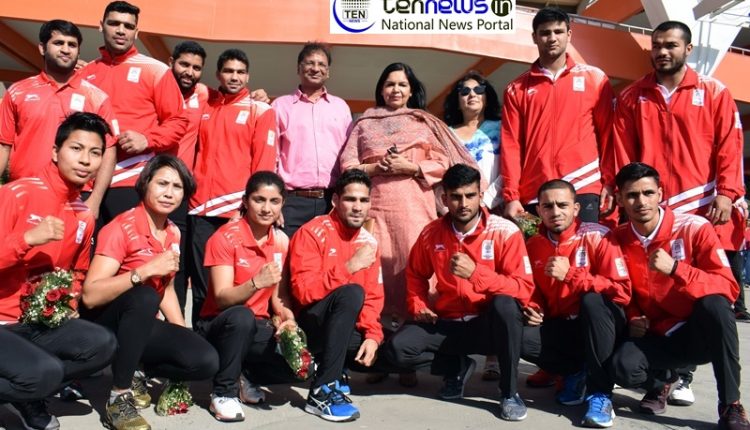 New Delhi: A 12- member team of male and female contingent of lndian boxers was given a warm sendoff for the Commonwealth Games 2018 on Saturday by Boxing Federation of India (BFI) and lndian Olympic Association (IOA) on Saturday evening at JNLU stadium.
President of BFI, Ajay Singh, Director General of SAI, SN Neelam Kapoor and Secretary General of lndian Olympic Association (IOA) Rajeev Mehta were ignited the players with their words and wished all the best to the team.
The 21st edition of the Commonwealth Games in Gold Coast, Queensland, Australia, is going to begin from April 4, 2018 and will conclude on April 15, 2018.
While addressing media, President of Boxing Federation of India (BFI) said, "We have carried out a rigorous screening process and have picked only those boxers who have done brilliantly at the national and international levels over the last few months and stand a chance of winning medals at the Games,"

"I'm positive that they will underline their class and make the podium," he added.
Leading lndia's charge in the women's division will be five-time World Champion and Olympic medalist MC Mary Kom (48kg), 2006 World Champion L Sarita Devi (60kg) Pinky Rani (51kg) and the young and talented Lovlina Boroghain (69kg), Manoj Kumar (69kg) and Vikas Krishnan (75kg ) will spearhead the men's challenge.
Then, there are the likes of Manish Kaushik (60kg), Satish Kumar (+91kg), Naman Talwar (91kg). Gaurav Solanki (52kg), Hussam Mohammed (56kg) and Amit Phangal are making their debut in the August championship at the famous Oxenford Studios in Gold Coast.
lndian boxers have done well in the Commonwealth: Games and Manoj Kumar is confident of winning a pocketful of medals this time too. '
"We have worked very hard over the last six months, Which included precision training. A series of exposure trips have also helped us to prepare" the right way which have also boosted our confidence," Manoj confidently said.
India had amassed 7 medals (3 gold and 4 Bronze) in the 2010 of the Games and 5 medals in the last edition of Commonwealth Games 2014.