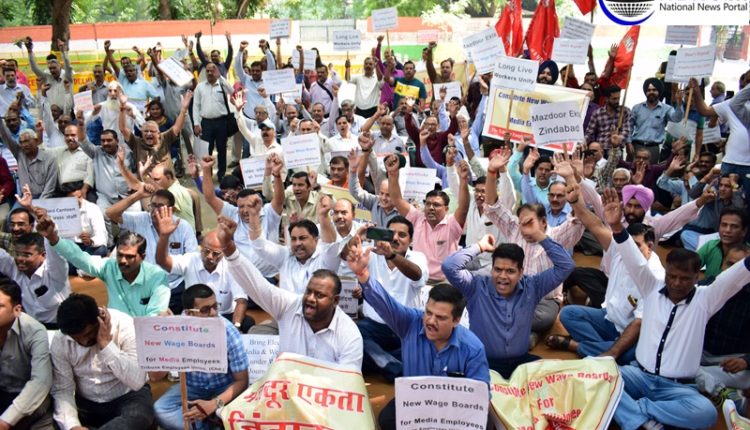 Indian Federation of Working Journalists along with other media agencies demands Working Journalists Act to be implemented
Vishal Malhotra (Photo-Video) Lokesh Goswami Tennews New Delhi :
New Delhi, 10/10/2019: Thousands of media persons gathered at Jantar Mantar today and demanded that the Working Journalists Act, which is a distinct act, should not be repealed or abrogated but comprehensively expanded to bring the electronic and internet media within its ambit in view of the communication revolution.
While in a conversation with Ten News, Hemant Tiwari, vice president of Indian Federation of Working Journalist said, "We have been noticing a big negative treatment with working journalists in Noida-Greater Noida region. We want proper justice with the ones who are innocent and we won't speak a word if anyone of them is found with false involvement in any act."
"The recommended apex organisation of all media trade unions also demanded that a Media Commission should be set up to study the changes that have taken place in the light of the explosion in the communication technology," added Hemant Tiwari.
Some member from PTI (Press Trust of India) suggested that Media Commission should have experts from the cross-section of the society to suggest the ways and means to make the new media, digital media more responsive and responsible towards society and the profession.
"Media persons across the country feel that the provisions for the Wage Boards should not be disturbed and the Act should be made stronger and more self-contained instead of compressing it with other acts or codes. It must also be ensured that the recommendations of the Wage Boards are properly implemented failing which there is provision of exemplary punishment and penalty in the Act", mentioned one of the article they shared while protesting.