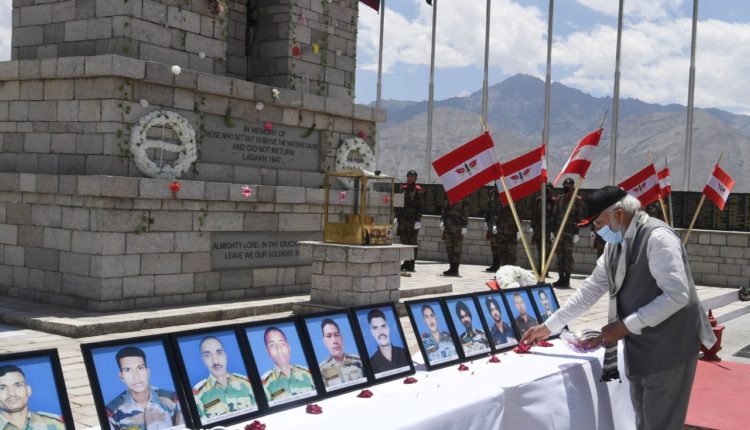 India's commitment to peace should not be seen as India's weakness, says PM Modi in Nimu
Ten News Network
Nimu (Ladakh) [India], July 3, 2020: Amid heightening tensions between India and China along the Line of Actual Control (LAC) in Ladakh region, Prime Minister Narendra Modi on Friday morning paid a surprise visit at Nimu to meet and interact with army officers and soldiers.
While his entire speech didn't mention the name of China even once, he minced no words in reiterating India's firm resolve and commitment to secure its borders.
Affirming that India is committed to peace and friendship but this commitment to peace should not be seen as India's weakness, he said, "Today India is becoming stronger, be it in naval might, air power, space power and the strength of our army. Modernization of weapons and upgradation of infrastructure has enhanced our defence capabilities multifold."
Modi also remembered all the proud sons of Mother India who made the supreme sacrifice at the Galwan Valley. He said that those who were martyred belong to all parts of India and epitomize our land's ethos of bravery.
Prime Minister said that the time for expansionism is over. This is the era of development. He recalled that it is this mindset of expansionism that did great harm.
While focus of his speech remained on energizing the Indian troopers for the uncertain situation on the border, he also outlined the measures that have been taken in last few years for the wellbeing of India's forces and for furthering nation's security preparedness.
He also informed the troops that the expenditure on border infrastructure has been enhanced three times and there is constant focus on expanding the road network on borders and ensuring availability of modern weaponry for soldiers.
Prime Minister Modi also highlighted recent initiatives of the government such as creation of CDS, construction of a grand National War Memorial, fulfilment of OROP after decades and steps to ensure the well-being of the families of the armed forces personnel.
During the visit, Prime Minister Modi was accompanied by CDS General Bipin Rawat and Chief of Army Staff Gen M M Naravane. He also interacted with personnel of the Army, Air Force and ITBP.