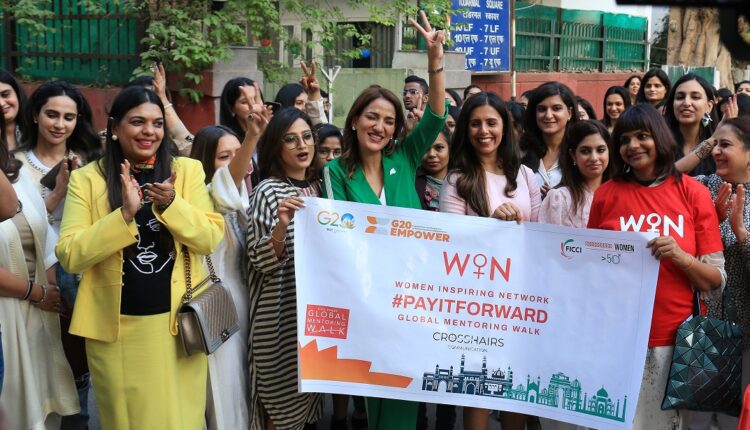 International Women's Day Special-WOMEN INSPIRING NETWORK organized Global Mentoring Walk in association with FICCI G20 EMPOWER
New Delhi, Friday, 3rd March 2023: Women Inspiring Network (WIN) organised Global mentoring Walk in association with FICCI G20 Empower on 2nd March 2023 at FICCI House New Delhi to celebrate International Women's day. Women change-makers from across the sectors participated in the Vital Voices Global Mentoring Walks, an established based on the practice of mentoring-while-walking that provides an environment for aspiring women leaders to gain the support and guidance they need to fulfill their goals. The women change makers also shared their thoughts on the panel discussions about Mental Health and Wellness, Women's Leadership, and Design & Beauty for a Sustainable Future.

Stuti Jalan, Founder of Women Inspiring Network (WIN) said, "We are grateful to this dynamic group for coming together for the Global Mentoring Walk, which is an opportunity for women in our community, and around the world, to unite around a common purpose. Together, we will pave the way for the next generation of women leaders. Women Inspiring Network (WIN) and FICCI, G20 Empower joined hands with the mutual goal of mentoring and connecting with one another to promote upliftment, because power expands the moment it is shared.
She adds," Global Mentoring Walk,  started in 2008, takes place every year in countries around the world for the celebration of International Women's Day. Thousands of women from across the globe gather in their communities to participate in the Walk. In 2018 alone, the women leaders in our Vital Voices network hosted 141 walks in 59 countries; nearly 13,000 women and girls participated.
This year, Global Mentoring Walks worldwide theme is Time for Audacious Action. A call for the use of one's power, platform, and position to empower and embolden others. Flag Bearers around the world are actively illustrating this concept by using the one day they oversee to convene their community and improve women's lives moving forward. In 2023, The Global Mentoring Walks will take place in Argentina, Benin, Bolivia, Cameroon, Canada, Chile, Costa Rica, Denmark, Ecuador, Egypt, El Salvador, England, France, Ghana, Guatemala, Haiti, Honduras, India, Kenya, Malaysia, Mexico, Nepal, Netherlands, Nicaragua, Nigeria, Palestine, Panama, Paraguay, Peru, Poland, Saint Lucia, South Africa, Spain, St. Dominigue, Trinidad and Tobago, Uganda, UK, Ukraine, United States, Uruguay, Vannatu, and Zambia.
Speaking on Women Leadership, Nidhi Modi, Founder and CEO, Mamily said, "70% of women quit there careers at the age of 30 as they struggle in work life balance post pregnancy. With support from corporates data shows 92% are able to come back to work post child birth and increase corporate P&L intrinsically. Companies with gender balance managed better have proven to have higher profitability compared to there peers who had lower gender equality."
Sharing the insights of Design and Beauty for sustainable Future, Naina Ruhail, (Founder and Co-CEO, Vanity Wagon, said, "For beauty to be sustainable, its essential to use products that are made using clean and non-toxic ingredients. Secondly, recycle your empties, do not let them go waste. Thirdly, try and use multifunctional products so that less of wastage again. Lastly, my tip when it comes to sustainable beauty would be don't hold buy what you need. Go for plastic free packaging, try and avoid using single use plastic products. You can be as sustainable as you want."
Women Inspiring Network (WIN) has previously held several online webinars promoting various causes such as Breast Cancer Awareness, a Networking event at Qorum, Collaboration with Jai Hind College and Arthanomics, and online workshops and webinars.