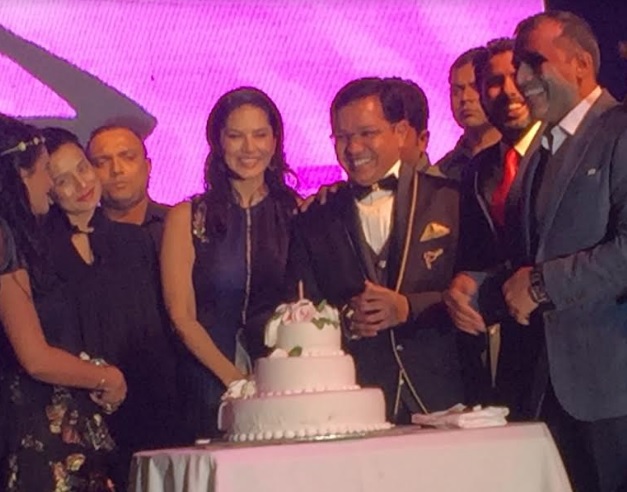 INTMAART's digital Social Media Exchange platform promises new era of economical sustainability
A Special Report by Bipin Sharma
At a glittering event organized by Ablaze Info Solutions at Greater Noida, flamboyant entrepreneur Anubhav Mittal launched his ambitious new project named "INTMAART" on his birthday. A lavish party and a breathtaking fashion show with Sunny Leone and Amish Patel was hosted on 29th November'2106 by Mittal for his business associates, family, and friends at the Hotel Crown Plaza, Surajpur Chowk, Greater Noida to celebrate the momentous occasion. The event saw the two popular divas of Bollywood walk the ramp for the launch of the new E-commerce portal. Hailing from the satellite town of Pilakha, Anubhav Mittal, the Founder of Ablaze Info Solutions built a multicrore business empire through his unique concept in 'Digital Marketing Services' in India in a short span of 15 months. His dynamism, far sighted vision and business acumen primarily sets him apart from others. At a relatively young age, he has managed to carve a niche for himself due to his sheer integrity, commitment and passion. A technocrat coupled with a degree in Masters in Business, he always nurtured a dream and drive to enable and empower citizens by creating unique opportunities for Businesses and Individuals by making the optimum usage of affordable Technology. Subsequently, this led him to create a web based platform for those seeking to promote their businesses, and then use the same platform to promote other's businesses. Known as 'Social Media Exchange', this was conceptualized and introduced by him for the first time in India.
Mittal has won all round adulation from more than half a million people in India in a mere one year span for having brought a marked lifestyle change by the use of Internet, and for enhancing the lifestyle of countless people. What is really remarkable is the fact that this number is growing phenomenally in thousands every day.
In an exclusive chat with tennews.in, Mittal shared, "INTMAART will be an Intelligent Mart possessing the right blend of Social Media and E-Commerce moving forward. While we are commencing with e-commerce initially, in a time span of less than 6 months, we will scale greater heights by becoming the first Social Commerce company in India. Our vision at INTMAART is to first capture the local markets of India which are untapped for e-commerce. Prime instances in this context being Flipkart and myriad other e-commerce companies which are able to service 8000 post codes approximately. Despite their existence, there remains humongous potential and opportunity to service more than 10000 post codes. INTMAART will be focusing to cater to this additional 10000 post codes through the leading Logistics service providers. INTMAART is in its nascent and founding stage of an online Retailer and happens to be part of a Technology company in India. INTMAART offers a cloud based social commerce platform services in B2C verticals and intends to get endorsed by India's top ranked Industrialists and Business icons. INTMAART is yet another flagship platform from Ablaze Info Solutions Private Limited that has touched scores of hearts since mid 2015 by empowering them with economic sustainability through its web based Social Media Exchange platform."
As regards the focus of Ablaze Info Solutions goes, it has continually been on exploiting the growth potential of untapped markets and communities of India through a Digital platform. With the core competencies in web based Technologies, Ablaze Info Solutions aspires to reach out to all those unchannelized and untapped markets of consumers and marketers who are yet to leverage technology to their fullest potential for their business needs, thereby making it a win win state for both in this glocal (global + local) geography. With this approach chiefly in its thought and mind, INTMAART aims and endeavours to become an affordable Technology, and thus a trusted platform for the Individuals and Businesses (consumers and marketers) in times to come.