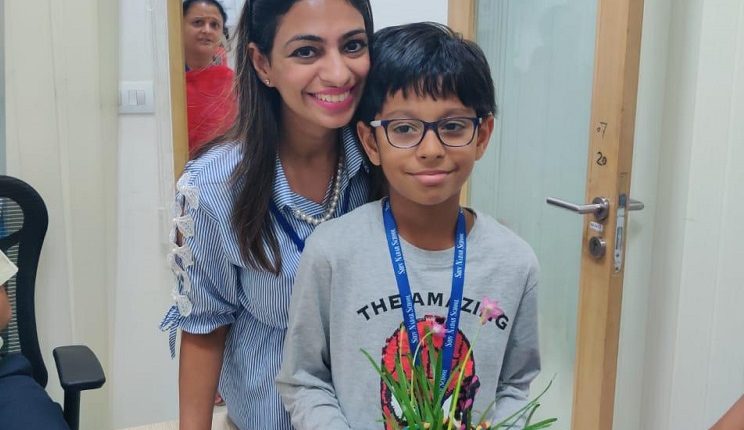 कोरोना से डरो ना | It is a time for a smart parenting, hugging and talking
By Vinnie Mathur (Author is Craft Trainer, Workshop Consultant and Associate Dean at Shiv Nadar University)
"Hugs can do a great amount of good, especially to children" Lady Diana, Princess of Wales.
God has given us time to enjoy being a parent. These tiny human beings are our best friends. It's time for smart parenting.
I have two kids — 9 and 14yr old. It's been quite an experience so far bringing up two boys but an amazing one. I request parents to use this opportunity to make the kids more responsible and give them a glimpse of adulting, but in a fun & interactive way. The first and foremost thing you should do as parents is to cuddle your kids , shower them with endless kisses, sleep with them, read to them and just talk , talk and talk to them… They need the love & warmth from parents and grandparents.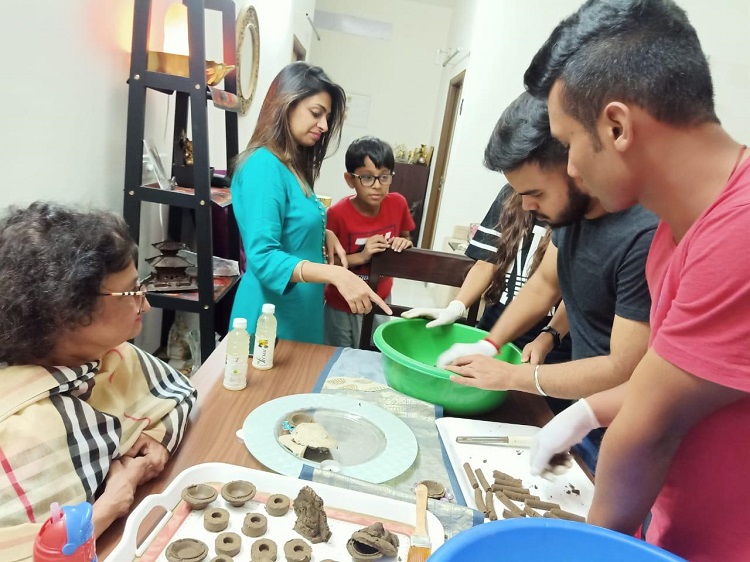 Some little tips-
A. Indoor fun
1.Maintain a routine:
Wake up and make a routine so you know how the day looks. Slot a couple of hours for their homework & daily assignment( as given my kids school-Shiv Nadar School
It gives everyone a sense of purpose and you know the hours you absolutely need to keep the little humans busy about the house. Going online and viewing you tube links of lessons is also a good idea to keep them at pace with academics.
2. Make it easy for your kids to feel and actually be independent. Set up an area that's well-stocked with games and projects and toys for them to do their own thing.
3. Play-dough keeps little hands busy for hours. For easy cleanup, use an old table and/or get big serving trays to keep the mess contained.
4. Create an art station and stock up on fun worksheets, colouring books (or better yet, our free downloadable colouring book!) and plain paper, along with pencil crayons, markers, stencils and glue. For advanced colouring kids, invest in some Doodle Art.. Cover a table—and the floor underneath—with newspaper, give the kids water colours, set them up with paint and water and let them go to town.
5. Be in the kitchen with your kids. Shop ahead of time for the ingredients they need and let them loose to work on a kid-friendly baking or cooking project. Lovely online recipes of easy fireless cooking available on the net. Let them make their own lunch with the help of Nani/dadi.
6. Play hair salon, but only for styling; scissors should be nowhere near this activity! They can practice their braids or buns. Or try a little hair chalk or gel for funkier looks.
7. If your kid is crafty, get them an online link to do DIY crafts. Make Popsicle-stick houses, photo frames from ice cream sticks(ideal for gifting to friends on birthdays) etc
Gear up for World Earth Day on 22 April. Engage the kids in eco friendly craft by doing waste management at their own level. They should be taught the idea of making Eco- bricks, recycling old tshirts ,best out of waste, block printing on old Tshirts, bottle glass painting etc
Plastic bottle bricks are made hard and strong by stuffing them with single use plastic waste that comprises chocolate wrappers and chips packets. They are then plastered using duck tapes, Araldite and other plastic-to-plastic adhesives. Each brick takes about 45 minutes to make and a small stool can be constructed.
Requirements-
2-4 pepsi/coke bottles
Old wrapping papers /empty chips packets etc
Kids could do these crafts and engage themselves creatively without needing parent support.
Get the kids to decorate Easter Eggs and make Easter cards
8. Get them to clean their room. And hang up their clothes. And throw all the dirty stuff in the hamper. And once that's done they can move on to the bathroom, where they can pick up their towel. And their pajamas from this morning. And put the toothpaste cap back on. And…well, you get the idea.
9. Set a story time time with grandma or grandpa, listening to stories from Partition days or Nehru chacha, Gandhi ji etc
10. A whiteboard/chalkboard easel with magnetic numbers and letters will keep toddlers busy for hours. Or maybe just 20 minutes. But that's still 20 minutes you didn't have before!
11. Playing with the pets: They can play fetch with the dog
12. Sink play: For the little ones, fill the kitchen sink halfway with warm, soapy water and let them "wash" their plastic dishes, cups, cars, Lego pieces etc
13. Encourage them to read newspapers, subscribe to childrens magazines.
14.Puzzles are your saviour. Just finding the edge pieces is a challenge, but once that's accomplished, they're going to want to keep on going.
15. Lego always works in a pinch, whether it's from a boxed set, where they have to follow the instructions to the letter, or creating their own little world with a bunch of random pieces. You know, like Minecraft, but in real life.
16.Kids could start their YouTube stories of DIY craft etc
17. Board games are always a good idea. Make sure the games are age-appropriate — Boggle, Chinese Checkers, Pictionary, Monopoly, Spellathon and so on.
18. Read stories of our national leaders, old heroes and moral stories.
19. Parents can create treasure hunts around the house. For instance, hide 7-8 things in a room and give them clues to find each. This task will keep them busy for sometime.
20. With siblings, ask the older sibling to read to the younger one. This will make the older sibling feel more responsible too. Slot an hour every afternoon for reading
21. Talk to them about Coronavirus. Children have a right to know what's happening around us. So if they ask you questions about school being shut and if they can fall sick, don't avoid their concerns. Ask them to write down an article on do's n don'ts of virus for their school magazine along with their thoughts on
What do you think will be the short term implications of the pandemic and the school closures? How will society be different post pandemic?
B. Outdoor Fun
1. Go biking with kids-Suggest a bike ride. Getting their helmets on and riding along..
2. If they are old enough to mow the lawn. Suggest watering the indoor and outdoor plants. They might be a little wet—okay, totally soaked—by the time they're done, but it's a small price to pay for saved time.
3. Make them meet the local gardener and understand about seasonal vegetables, fruits , flora & fauna around the city.
4. Kids can invest time in gardening & growing their own little plants.. order the sow & grow kids available online and it will be so much fun 💚
5. Dance party! The music might come from a phone, but the would love it and yes a great form of physical exercise.
6. Take out the camera and go bird watching & counting in your area. They could then find about the bird species and the number of birds in that species. They could form their own little birding society in the society and enjoy bird counting.
I hope you all like my ideas and encourage your kids to follow the above to engage themselves fruitfully this spring break💕At the end, enjoy these forced holidays and bring loads of togetherness with your children.