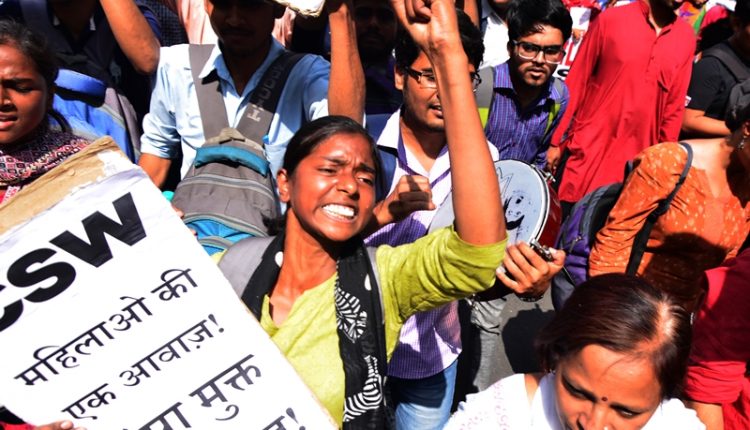 New Delhi:
Students of Jawaharlal Nehru University (JNU), Delhi University (DU) and several women organizations held a protest at Parliament Street asking Prime Minister and Home Minister to break their silence on Unno (Uttar Pradesh) and Kathua (Jammu & Kashmir) rape case incidents where rape accuseds are being protected.
As the protesters reached to Parliament Street the police officials stopped them by barricading them and attempted to pacify their agitation. Most of the protesters comprised of college girls and women who all raised slogans against the Union and Uttar Pradesh government to take relevant actions in brutal rape cases which have shocked the nation.

As the protest got intense, women police personnel, armed with sticks tried to stopped them, however, after the indication of a senior police officer they withdrew their stick and tried to stop them by controlling the crowd with bare hands.
The protestors were from AISA, Swastik Mahila Sanghatan, Pragatisheel Mahila Sangathan, SFI and others.
In Kathua, Jammu & Kashmir, the 8-year-old girl of the Bakerwal community of Jammu was drugged and sedated before being gang-raped, strangulated and being murdered by bashing her head with a stone to make sure she is dead.
Her rape and murder was, according to evidences collected by the J&K Crime Branch, pre-planned, in order to spread terror among the Bakerwal community. A special police officer and a retired revenue official allegedly committed this horrific incident to gain political mileage and force them to leave J&K.
While in UP's Unno, a girl was allegedly raped by a BJP MLA and when she reported the matter to the police, police arrested her father and who later on also died in police custody. This all happened even after the rape survivor had tried to commit suicide in front of CM house.

"However, in both the case and in both the States BJP government is trying to protect the accused to gain political mileage," alleged a protestor Sahba Farooqui.
They demanded that the Kathua case should be transfered to Delhi for free and fair trail as well as suspension of the police officer who allegedly tried to destroy the evidences. And in Unno rape case, police must immediately arrest the BJP MLA who should be sent to jail.