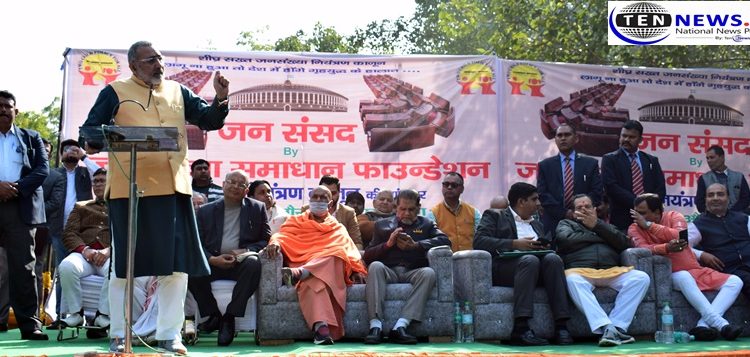 New Delhi: Jansankhya Samadhan Foundation's organised a Jan Sansad to interact with the people on the disastrous issue of Population in New Delhi.



The mega people's parliament was joined by thousands of population concerning minds hailing from several states of India.
Thousands of people demands the constitution of "Two Child Policy for All" and it's implementation otherwise the country will be in a situation of civil war.
When Ten News asked some of the people present in the Sansad about the need of the implementation of "Two Child Policy for All", the people claimed that the resources in the country is deteriorating while the population is on the rise, the rising population can be a reason for the destruction of our beloved country.
The Jansansad was joined by various political heavyweights including Minister of State for Micro, Small and Medium Enterprises in the Government of India, Giriraj Singh, Sangh Vicharak Indresh Kumar and Bharatiya Janata Party Spokesperson Ashwani Upadhyay.
Speaking at the event, Giriraj Singh said, "Increasing population is a very concerning issue, we will assure you all that our government will take adequate steps to combat this issue very soon."
While Sangh Pracharak Indresh Kumar said that the population is rising everyday but the resources are still the same, population is the major reason for the development.
Jansankhya Samadhan Foundation president, Anil Chaudhary said, " the two child policy will be implemented for all and the one who break this policy will be eliminated from getting all the government facilities, and right to vote".
"Our country has only 2.4% land of the earth while our country has 17.74% of the total world's population", Anil Chaudhary added.
Earlier the Jansankhya Samadhan Foundation has held several demonitisation in various states including the national capital for the demand of "Two Child Policy for All".